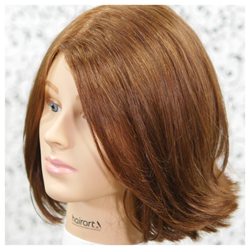 "This look is perfect for Princess Kate because it's a change, but nothing over the top that will take away from her already gorgeous appearance" says Stephen Marinaro
New York, NY (PRWEB) August 07, 2014
Rumor has it that Duchess Kate Middleton, is ready for a short hairstyle to complement her new role as Royal "Mum". Recently reported by the British tabloid Daily Star, Princess Kate has charged her styling team of Richard Ward and Amanda Tucker with creating a look that will wow her British subjects and Royal watchers around the world.
YouTube hair-styling sensation, Stephen "TheSalonGuy" Marinaro, released to video his version of the perfect cut for Princess Kate. In his video tutorial he created a modern, sexy bob with movement and layering that's easy to maintain for the new mom on-the-go.
Recently featured on GMA Live and in Marie Claire magazine, Stephen Marinaro uses a mannequin head in the tutorial to demonstrate his technique to create the gorgeous medium-length layered haircut. The new style will insure Princess Kate keeps her classy, youthful, and modern look that is important for her role as a public figure but also perfect for a new "Mum" that wants a trendy, easy style. "This look is perfect for Princess Kate because it's a change, but nothing over the top that will take away from her already gorgeous appearance" says Marinaro.
While the "Princess Di" cut created a very high bar for the Duchess to meet with a new look, Marinaro's fresh take on the modern Princess is sure to create a buzz suitable for a 21st century Royal bride.
Stephen "TheSalonGuy" Marinaro has demonstrated the latest in celebrity inspired hair trends on his YouTube Channel to over 6.4 million viewers and is a recognizable brand covering major events such as The Oscars, Mercedes-Benz Fashion Week, the Victoria's Secret Fashion Show, The Emmy's, Golden Globes and many others. You can learn more at http://www.thesalonguy.com.