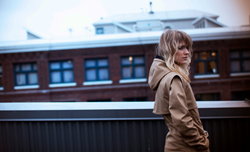 Santa Clarita, CA (PRWEB) August 07, 2014
Most outerwear companies try to protect its wearers from the elements, but at the cost of looking bulky and unfashionable. Even then, very few offer more than just water repellency – not enough for the inclement weather conditions we can get in fall and winter, and even spring. Mia Melon aims to change that. Fall 2014 launches a new collection of stylish weatherproof outerwear for women. The new line of high-qualty outerwear was inspired by the waterproofing process used by popular outdoor sporting apparel designers. Mia Melon's key focus is to make sure each jacket is functional, yet fashion forward – an emphasis that most outdoor apparel brands don't always consider.
It all starts with the sourcing of fabrics, finding fashionably appealing exterior shell fabrics and adding a cozy micro fleece to the interior shell of each coat. Bound between the two fabric layers is a state-of-the-art waterproof and windproof poly-membrane that functions similar to our skin. A heat process treatment is then added onto the fabric to ensure each wearer that they are protected from the elements of nature.
This weatherproof collection can be found online at http://www.shopmiamelon.com, along with dresses, tops, sweaters, and bottoms to round out your wardrobe. Act fast - the Fall 2014 coats will sell out once the season hits. You can put down a small deposit now to ensure you will be able to get your hands on one for September.
Feel safe in the elements again.