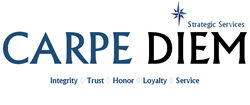 "The ProSync and CDSS alliance enhances both companies' service offerings to its diverse range of clients', Jamila Guyton, President and CEO of ProSync Consulting
Fulton, Maryland (PRWEB) August 07, 2014
Carpe Diem Strategic Services (CDSS) and ProSync Consulting (PS) are excited to announce this partnership that leverages PS's dedication to creating and implementing impactful marketing strategies. PS's branding campaigns, together with CDSS's expertise, will assist firms in identifying and better protecting their personally identifiable information (PII), protected health information (PHI) and sensitive corporate data.
CDSS principals have over 60 years of experience as senior intelligence officers with specialized experiences with the handling, safeguarding, storage and processing of national security information.
"The loss of personally identifiable information (PII), protected health information (PHI), or sensitive corporate information—whether intentional or accidental—exposes companies to lawsuits, criminal prosecution, and civil litigation, as well as a loss of public trust", stated Chris Stevens, CDSS President.
He continued, "ProSync Consulting understands the importance of establishing a framework of consumer privacy controls as part of its marketing and strategic framework and we're excited to be associated with a company of its stature."
"As my marketing experts at ProSync Consulting assist clients in expanding their marketing footprint into increasingly diverse media platforms, and as information gathering techniques and technologies become more sophisticated, the ability to weave a privacy-based mindset into a company's marketing strategy is critically important into today's business environment", stated Jamila Guyton, President and CEO of ProSync Consulting. She continued, "the ProSync and CDSS alliance enhances both companies' service offerings to its diverse range of clients".
Carpe Diem Strategic Services
Founded in 2012, Carpe Diem Strategic Services (CDSS) is a Service Disabled Veteran Owned Small Business (SDVOSB) that offers advice and support in developing policies and procedures on how a business handles and protect personal identifiable information (PII) and other sensitive corporate data.
CDSS' privacy professionals are certified by the International Association of Privacy Professional (IAPP) (http://www.privacyassociation.org), the global standard for privacy and data protection specialists.
For additional information on our CDSS, visit http://www.cdss-llc.com.
Chris Stevens
President and CEO
cstevens(at)cdss-llc(dot)com
ProSync Consulting
ProSync Consulting, founded in 2012, is a Women Owned Small Business and Full Service Marketing Firm.
ProSync Consulting offers effective and creative brand management and increases a business's bottom line through Email, Social Media, Content Management and Digital Marketing.
For more information on ProSync's services, visit our website at http://www.prosyncconsulting.com/.
Jamila Guyton, President and CEO, ProSync Consulting
"Build your dreams or someone else will hire you to build theirs"
jamila.guyton(at)prosyncconsulting(dot)com