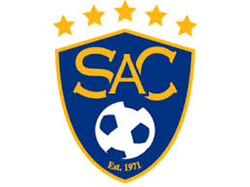 We've had great experience with the Shaw Sports Turf product. Our coaches and players love it, it's safe, it's durable, it performs, and it is very competitively priced.
Ellicott City, Maryland (PRWEB) August 07, 2014
The Soccer Association of Columbia(SAC) is nearing completion of two new synthetic turf fields from Shaw Sports Turf.
SAC is a private soccer club located in Ellicott City, Maryland; with programs providing competitive soccer opportunities to over 6,000 players aged 4-19. The organization hosts numerous leagues, camps, and tournaments. The Columbia Invitational is the largest of the tournaments, and features over 630 teams from around the country.
There are nine Bob Lucido fields at SAC's Covenant Park complex. Four of the nine are Shaw Sports Turf fields and the remaining fields are natural grass surfaces. The two fields being completed are replacement turf for previously installed fields.
Bob Lucido, for whom the fields are named, is a lifelong area-resident and real estate professional with Keller Williams who supports the mission of SAC.
"The Shaw Sports Turf fields enable us to maximize usage year round," said Craig Blackburn, COO of the SAC. "Our Shaw Sports Turf fields are lit so we can get the most play there and we can do it year-round without worrying about the effects of weather."
Shaw Sports Turf is the exclusive turf supplier of SAC.
"We've had great experience with the Shaw Sports Turf product," said Blackburn. "Our coaches and players love it, it's safe, it's durable, it performs, and it is very competitively priced. It also helps grow our organization because nobody else in our area can offer the facilities we do."
The two new surfaces will feature Shaw Sports Turf's Momentum system. Fast, dense and firm, Shaw's Momentum system is designed for high performance with a proven slit film technology. In addition to its durability and performance benefits, Momentum's fiber construction results in an umbrella effect that helps hold infill and reduce overall fly out. The fiber system forms individual blades, giving it the look of a monofilament system. It has a low g-max, meaning it is safe, yet firm. The high fiber density makes it a lush, long-lasting surface and Ultra-Loc backing technology gives the field dimensional stability and improved tuft-bind for hold the fibers in place.
The Baltimore Ravens also practice and play on a Shaw Sports Turf Momentum system. Shaw Sports Turf has installed practice and stadium fields on more than 1,500 playing surfaces for all different types of sports and recreational activities.
Johns Hopkins University also features the Momentum system at Homewood Field.
"We are proud of our long-term relationship with the Soccer Association of Columbia," said Ron Towle, Territory Manager with Shaw Sports Turf. "There's not a better-run program anywhere in the country and we are honored that so many young athletes are able to develop their skills on the fields we make."
Soccer players at SAC will have the opportunity to begin developing those skills next week, as the project is completed.
About Shaw Sports Turf
A wholly-owned subsidiary of Berkshire Hathaway Inc., Shaw Industries is a full flooring provider to the residential and commercial markets. Shaw supplies carpet, hardwood, laminate, resilient, and tile/ stone flooring products, as well as synthetic turf. Shaw Sports Turf is one of the leading synthetic turf companies in North America and has represented quality and innovation for more than two decades with over 1,500 successful installations, including an impressive list of high-profile field installations. For more information please visit http://www.shawsportsturf.com, call 866-703-4004 or find us on Facebook.