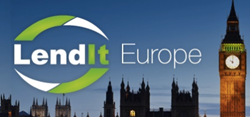 LendIt Europe will bring together the most influential p2p leaders from across Europe and beyond in an action packed one-day conference.
New York, NY (PRWEB) August 07, 2014
LendIt, the largest and most recognized conference for the P2P and online lending industry, is pleased to announce that registration is now open for its first European conference on November 17, 2014 in London. LendIt Europe will be held at 155 Bishopsgate, a state of the art new conference venue in the heart of London's financial district.
LendIt Europe will bring together the leaders and pioneers at the forefront of the p2p and online lending industry in Europe. In addition to the leading lending platforms, LendIt Europe is expected to draw institutional investors, financial analysts, private wealth managers, family offices, individual investors, and media representatives from across the globe. Agenda, speakers, and sponsors will be announced in the coming weeks.
"Europe is the birthplace of p2p lending and in many ways, it leads the world," said Peter Renton, Co-Founder of LendIt and Founder of Lend Academy. "For this reason, we decided to create a European version of our popular LendIt Conference to bring the European leaders in our industry together so we can learn from each other."
The one-day conference will feature keynotes from the CEOs of the leading UK platforms, as well as interactive panel sessions with leaders from across Europe. The Exhibit Hall will feature both new and established platforms as well as service providers, allowing attendees to get a complete snapshot of the industry. There will also be a pre-conference cocktail party held the night before at the Andaz Hotel on Liverpool Street.
The European p2p lending platforms have grown dramatically in recent months. In the UK alone, the major platforms are on track to issue £1 billion this year, more than doubling the size of the industry there. In continental Europe, there any many established platforms with multi-year track records still growing fast and several new companies have launched in the last 12 months.
Attendees at LendIt Europe are encouraged to register in advance in order to ensure ticket availability. Early Bird ticket prices will remain available until August 31st. Additionally, LendIt has room blocks at discounted rates, available for a limited time, at the Andaz Hotel on Liverpool Street (just 200 yards from the conference venue). In order to secure the best rates, LendIt participants are also advised to make hotel reservations early. Attendees can register today at http://register.lendit.co.
Press Registration Information
Credentialed members of the news media may receive complimentary registration which includes access to the entire program including the exhibit hall. If you are a member of the media and interested in a press pass, please email press(at)lendit(dot)co.
For more information on LendIt Europe, visit us at http://www.lendit.co.
About LendIt:
LendIt is the preeminent global conference organization dedicated exclusively to the P2P and online lending industry. LendIt events showcase leading and emerging online lending platforms, the ecosystem of Big Data companies that are serving the sector, as well as the financial services firms that are providing innovative financing structures and investment capital to this rising asset class. Lendit has previously produced successful conferences in New York, San Francisco, and Shanghai.