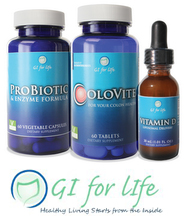 We created our probiotic formula to provide relief and get the intestinal balance back in order. Ours is different from other products on the market because ours contains PREbiotics and Enzymes to help the Probiotics work more effectively.
Santa Rosa, CA (PRWEB) August 07, 2014
The Role of Digestion and Gut Health as It Relates to Healthy Skin and Acne
A recent news release by the American Academy of Dermatology discussed the complex nature of how probiotics and prebiotics can influence and interfere with the development of acne and rosacea. The model of how that works is referred to as the "gut-brain-skin axis." The gut refers to diet and the brain refers to stress levels, so that the less healthy one's diet and more stress one is under influences the gut chemistry to shift the gut bacteria flora to an unhealthy one. The unhealthy environment causes the gut to leak, which releases toxins into the bloodstream. This is thought to lead to flare ups of acne and rosacea.
Oral Probiotics Can Counter Effect the "Gut-Brain-Skin Axis"
By taking oral prebiotics and probiotics such as by eating yogurt or a daily supplement containing live cultures, one can influence skin conditions such as acne and rosacea. The probiotics form a lining on the gut wall of healthy bacteria which acts like a barrier to the harmful bacteria, reducing inflammation and skin breakouts.
GI for Life Produces a High Quality Probiotic Supplement Formulated With Enzymes and Prebiotics
Our Probiotics Formula is specifically developed by board-certified gastroenterologists to help support the healthy balance and growth of good intestinal bacteria. Denise Lustberg discusses how the GI for Life Probiotics formula is different from everything else available: "We created our probiotic formula to provide relief and get the intestinal flora balance back in order. Our GI for Life formula is different from other products in the market because we wanted to make certain that our product contained PREbiotics and Enzymes, as well as probiotics. This gives the probiotic bacteria an opportunity to flourish and exert their influence more productively."
Healthy Living Starts from the Inside (TM)
GI for Life embraces lifestyle changes and a nutritional prescription for digestive health based upon the latest scientific evidence on colon and intestinal health and diet. Leading board-certified gastroenterologists joined forces to develop the products specifically formulated to address the nutritional needs of their patients associated with many common digestive health issues, including colon cancer, celiac disease, irritable bowel syndrome, and Vitamin D deficiency. GI for Life uses the newest technology to deliver the highest quality dietary supplements.
GI for Life was founded in 2010 by board-certified gastroenterologists with many years of clinical and academic experience. Dr. Michael Lustberg is a fellow of the American Gastroenterological Association. He was a section of Chief of Gastroenterology and has widely lectured on gastrointestinal health and colon cancer.
To visit the GI for Life YouTube channel, click here.
To learn more about GI For Life, visit our new website GIforLife.org or our online store at ColoVite.com.
Reference:
http://www.aad.org/stories-and-news/news-releases/could-probiotics-be-the-next-big-thing-in-acne-and-rosacea-treatments