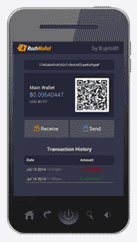 Rushwallet is the easiest way to use Bitcoin
Toronto. Canada (PRWEB) August 07, 2014
KryptoKit, the maker of the most popular Bitcoin browser extension, today debuted RushWallet, an instant, easy-to-use Bitcoin wallet that works on all modern web browsers and mobile devices.
Emerging from the need for a fast and frictionless online wallet system, RushWallet fulfills a vision that both Steve Dakh and Anthony Di Iorio, co-­founders of the Toronto-­based start-up KryptoKit, had in 2013 when they sought to build a system that removed the need to provide email addresses, usernames, or passwords normally associated with web and software Bitcoin wallets.
"The first part of that vision" Steve Dakh says, "was achieved with KryptoKit Extension, a 5-star rated Google Chrome plugin that provides an instant and secure Bitcoin wallet coupled with a secure messaging system based on GPG encryption."
Now, with the launch of RushWallet, Bitcoin users have a hot wallet option that is instant, secure, and frictionless. It works on any web ­browser without the need to install software or log into a web wallet. Users simply bookmark their personal wallet URL and use this to access their RushWallet.
RushWallet is now the simplest and fastest method for creating a secure Bitcoin wallet. A RushWallet can be created by visiting rushwallet.com. Follow the prompt to "color in" the icon by randomly moving your mouse (on a desktop) or finger (on a touch screen device). That's it - you now have a secure wallet.
This user-generated "coloring in" action is the only user input required, and it helps to generate entropy (randomness) for a secure wallet. The key created from this process becomes part of the page URL, and generates a "secret" URL address. This address is used as the simple mechanism to access the wallet at a later time; an optional password can be added for extra security.
Private keys are secure and are always stored client-­side, so only the user has control of their wallet. At no time does RushWallet store or have access to the user's keys or bitcoins. And in the spirit of openness, anyone can view RushWallet's free and publicly available source code to verify the security of this system.
For extra convenience, RushWallet also features integration with OneName.io, the Bitcoin username registry system. This feature eliminates the need to copy/paste or scan a Bitcoin address, making it the easiest way to send bitcoins. Simply type a OneName.io username into the send bar and RushWallet will automatically populate that user's Bitcoin address.
Create your own RushWallet for free at http://www.rushwallet.com.
Kryptokit is a Toronto-­based technology company specializing in encryption and digital
currencies. Founded in 2013 by Anthony Di Iorio and Steven Dakh, Kryptokit strives to provide hardware and software solutions that are secure, easy-to-use, and frictionless.
For further information or for press inquires please email rush@kryptokit.com.