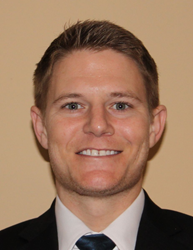 "Andrew brings a great deal of passion to his work and to his clients,"
Clearwater, FL (PRWEB) April 21, 2015
The Clearwater law firm of Carlson, Meissner, Hart & Hayslett, P.A. is pleased to announce the addition of attorney Andrew D. Spence to their team of experienced litigators. Spence will be responsible for representing clients in both personal injury and worker's compensation cases.
Born and raised in Pinellas County, Florida, Spence attended Florida State University, where he received his bachelor's degree in accounting and finance. He then attended Stetson University College of Law in Gulfport, Florida, and Shepard Broad School of Law at Nova Southeastern University in Fort Lauderdale, receiving Juris Doctor degrees from both schools. He was also a member of the Phi Alpha Delta legal fraternity.
Attorney Spence is admitted to both the Florida Bar and Clearwater Bar, and has served as a campaign assistant to both a Florida Senate and Florida House of Representative candidate in Fort Lauderdale, Florida. He also worked as an associate attorney for Doch Parafinczuk & Wolf, P.A., in Fort Lauderdale before moving back to Clearwater.
"Andrew brings a great deal of passion to his work and to his clients," said Principal Attorney Edward D. Carlson. "We're looking forward to seeing what he will accomplish on our team."
Spence will represent personal injury and worker's compensation claims for clients throughout Clearwater. He will be based out of Carlson, Meissner, Hart & Hayslett, P.A.'s New Port Richey office. When he is not working on cases, he enjoys spending time with his family, his friends and his dog.
About Carlson, Meissner, Hart & Hayslett , P.A.: The law firm of Carlson, Meissner, Hart & Hayslett P.A. was founded in 1971 by attorneys Ed Carlson and Paul Meissner. For more than four decades, they have been committed to protecting the injured and defending the accused. Their attorneys have established a solid reputation of case success throughout Florida, providing strong legal representation, easy accessibility and a high level of dependability. A client-centered approach ensures that clients know what is happening as their case progresses, and understand their options every step of the way. With a focus on personal injury, they help victims of auto accidents, slip and falls and wrongful death accidents. The firm is well-known for their innovative criminal defense and DUI work, defending both local and high-profile clients. Attorney and Partner Kevin Hayslett is widely recognized as The Attorney to the Stars, providing strong legal representation for notable celebrities and dignitaries throughout Florida. The firm also handles social security disability, workers compensation, divorce, family law and immigration cases. They offer free initial consultations and have five convenient Tampa Bay Area locations. Attorneys are available 24/7 for emergencies. Count on the legal team of Carlson, Meissner, Hart & Hayslett, P.A. to be there, fighting for you, protecting your rights. For more information or to schedule a consultation, call 877-728-9653 or visit their website at http://www.CarlsonMeissner.com