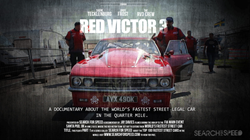 "I agree with Jay's vision which is to try to show the viewing public the part of racing that you don't get to see on mainstream racing coverage." - Shane Tecklenburg
Liverpool, England (PRWEB) August 07, 2014
Today SearchforSpeed.com, a Liverpool, England based company and website dedicated to the fastest street legal machines on the planet, released its first Documentary film titled "RedVictor3". The film, produced by Jay Davies, chronicles the efforts put forth by the RedVictor1 Drag Racing Team during the 2013 FIA Main Event at Santa Pod Raceway near Poddington, England. The main subject of the film revolves around the Team who are trying to reset the World Elapsed Time and Speed Records for a Street Legal Pro Modified drag race car.
The vehicle itself is a purpose built replica of the 1972 Vauxhaul VX4-90 Victor which team principal and driver Andy Frost began racing early in his career. The viewer is treated to a 50 minute inside look at the many trials and tribulations the team go through as they seek to achieve their goal. First hand accounts from Team Engineer/Tuner Shane Tecklenburg provide insight into the strategies and technical aspects of Drag Racing on a level which is easily understandable for even the non-racing enthusiast.
Tecklenburg said this of the film "We are all obviously very excited about this film and the effort that Jay and his team put forth to make this happen is extraordinary to say the least. Personally I agree with Jay's vision which is to try to show the viewing public the part of racing that you don't get to see on mainstream racing coverage. I think he has something here and I am very proud to have been a part of it."