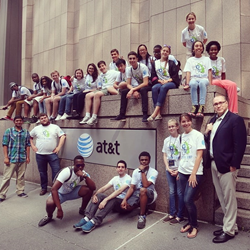 These students would never have gotten to know each other without this program and they – and their teamwork – are the future of this city and its STEM industries.
New York, NY (PRWEB) August 07, 2014
High school students from across the five boroughs presented their newly developed mobile applications Friday at a graduation reception at Pace University's STEM Collaboratory Camp.
Sixteen students were selected this year to attend Pace's STEM Collaboratory Camp, a free two-week program during which campers are introduced to coding, robotics, cyber security, design thinking, and scientific research processes among other skills, and then put them to work. The camp culminated in students designing and building their own mobile phone apps.
Jonathan Hill, associate dean of the Seidenberg School of Computer Science and Information Systems at Pace University said, "This is a very special group of young people. They were nominated individually by their high school STEM teachers in part because they were passionate about math, science, and technology, but they have increased their knowledge by working in teams with mentors. These students would never have gotten to know each other without this program and they – and their teamwork – are the future of this city and its STEM industries."
Marissa Shorenstein, New York State President, AT&T, said, "AT&T is committed to fostering the next generation of workforce members by supplying our students with the skills they need to succeed – skills that are increasingly centered around technology and innovation. Through our support for Pace's STEM Collaboratory Camp this summer, AT&T was thrilled to provide such hands-on tech experience to New York City students whose knowledge of that field is becoming increasingly vital to the future of our economy. I am very impressed by all these students learned in only two weeks and hope they take their newfound abilities back to school with them in the fall and beyond."
Over the course of the program, students participated in a combination of science classes, workshops, and field trips to AT&T's cyber security facility among other destinations. They worked closely with experts in the fields of physics and engineering. During Friday's graduation ceremony, the students heard from representatives of AT&T, U.S. Senator Kirsten Gillibrand's Office and DARPA Legislative Affairs – Spire Communications.
As access to skilled workers becomes increasingly vital to the U.S. economy, AT&T is stepping up its commitment to education to ensure the country is better prepared to meet global competition. Last year, AT&T announced its Aspire program would spend $350 million across the country to help more students graduate from high school ready for college and careers. In addition to supporting many vital community programs, AT&T is currently hosting a class of twenty girls at its Rockefeller Center office as part of a summer intensive program offered by Girls Who Code. And last fall, AT&T made a $1.6 million donation to the Fund for Public Schools to provide STEM enrichment, internships and other academic activities like hackathons and boot camps to high school students.
About AT&T:
AT&T Inc. is a premier communications holding company and one of the most honored companies in the world. Its subsidiaries and affiliates – AT&T operating companies – are the providers of AT&T services in the United States and internationally. With a powerful array of network resources that includes the nation's most reliable 4G LTE network, AT&T is a leading provider of wireless, Wi-Fi, high speed Internet, voice and cloud-based services. A leader in mobile Internet, AT&T also offers the best wireless coverage worldwide of any U.S. carrier, offering the most wireless phones that work in the most countries. It also offers advanced TV service with the AT&T U-verse® brand. The company's suite of IP-based business communications services is one of the most advanced in the world.
Reliability claim based on data transfer completion rates on nationwide 4G LTE networks. 4G LTE availability varies.
Additional information about AT&T Inc. and the products and services provided by AT&T subsidiaries and affiliates is available at http://about.att.com or follow our news on Twitter at @ATT, on Facebook at http://www.facebook.com/att, and YouTube at http://www.youtube.com/att.
© 2014 AT&T Intellectual Property. All rights reserved. AT&T, the AT&T logo and all other marks contained herein are trademarks of AT&T Intellectual Property and/or AT&T affiliated companies. All other marks contained herein are the property of their respective owners.
About Pace University:
The Seidenberg School of Computer Science and Information Systems at Pace University prepares men and women for professional work, research, and lifelong participation in a new and dynamic information age. Located in the financial capital of the world, the Seidenberg School offers a wide variety of courses and exposure to internships and work with leading corporations, banks, federal agencies, and global entities. Degrees and certificates are conveniently available on Pace's campuses in New York City and Westchester County, as well as online and in special programs.