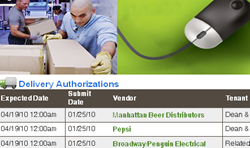 Increased operational efficiency and security can help government and private sector clients on a much broader scale.
New York, NY (PRWEB) August 07, 2014
Building Intelligence provides cloud-based solutions that enable real estate property managers, facility owners and CSOs to enhance and streamline their current processes for securing visitors entering the "front of the house", and vehicles, drivers/deliveries accessing the "back of the house" or loading dock area.
The cloud based nature of the application results in a recurring revenue model while the solution addresses critical risks, which no other technology provider is currently addressing. Building Intelligence believes that it is the only provider of this combined security solution in the U.S.
Vehicle security is of primary importance to all facility and security managers and there is a lack of technology-based security solutions to address this issue. Unsecured vehicle access to a building introduces a myriad of risks from terrorism to crime, higher insurance rates, general liability and brand/reputation risk.
Building Intelligence provides an integrated solution that authenticates the driver, vehicle and delivery schedule, creates a conclusive audit trail regarding the vehicles arrival time, various location checkpoints within the secured area and departure time, ensuring that damages are accountable and unauthorized vehicle access does not occur.
In the process the company is building the country's first Secure Vendor database, which currently contains pertinent information for over 10,000 vendors currently servicing the company's customers.
Building Intelligence has deployed its technology in high profile sites throughout the New York metropolitan area, and has developed partnerships with some of the largest security systems integrators and distributors in the U.S., including Johnson Controls and Dieblod Enterprise Security.
Jeffrey Freidman, CEO of Building Intelligence, commented, "Our company offers a unique and valuable solution and we are at a important stage in our development. I have known Scott Greiper and Secure Strategy Group for several years and believe that they can not only help our company scale, but also successfully manage our growth. We're excited to engage SSG."
Scott Greiper, President of Secure Strategy Group, stated, "The security gaps that Building Intelligence addresses are not unique, but the way in which they address them is extremely unique and cost effective. We believe that the value the company's technology provides in terms of increased operational efficiency and security can help government and private sector clients on a much broader scale, and we are excited to partner with the company to help it achieve its goals."
About Building Intelligence Inc.
Building Intelligence is a software company providing innovative technology solutions for security practitioners and building owners to manage visitors, vehicles and vendors, Building Intelligence Inc. is a privately owned business based in New York,, NY. The firm's cloud-based solutions are uniquely positioned to provide the tools for managing visitors and vendors as they enter on foot through the front door or in a vehicle at the loading dock or parking area. The modular solution set is being widely adopted in many major metropolitan markets and being sold, deployed and supported by an authorized security systems integrator channel with expertise in the identity and access management domain.
Contact Building Intelligence Inc.
Laurie Aaron, Chief Marketing Officer
O: 877-353-3377 Ext. 7011
C: 860-985-0021
LAaron(at)BuildingInelligence(dot)com
http://www.buildingintelligence.com
About Secure Strategy Group, LLC
Secure Strategy Group is a financial and strategic advisory firm that backs and builds emerging growth technology companies in the security, IT and communications sectors. The firm's expert advisors and powerful network help clients increase their visibility, revenue and enterprise value. Along with market and business due diligence, SSG also provides capital raising and M&A services through broker-dealer Pickwick Capital Partners.
Contact Secure Strategy Group, LLC
Scott Greiper, President
212-333-0202
sgreiper(at)securesg(dot)com
http://www.securestrategygroup.com