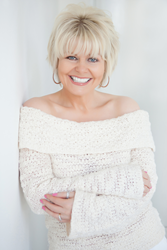 I'm so excited to be joining the premier community radio chat show in my home country.
(PRWEB UK) 11 August 2014
Joanne Reid Rodrigues, one of the UK's foremost therapists, nutritionists and life management experts, has joined the Talk To Phil & Dave Show – Scotland's premier community radio chat programme – as a regular contributor.
Joanne, who already provides her expert views on BBC Radio, ITV and in national newspapers and magazines, will feature in a fortnightly live interview on the Talk To Phil & Dave Show on Pulse 98.4.
She is founder of the internationally acclaimed Slimming Together – her personal development & holistic weight-management programme – which was established in 1986. She is also an acclaimed author and international speaker and is currently resident in London and Jersey, in the Channel Islands.
Joanne, who was born in and grew up in Glasgow, has taught tens of thousands of people in California and in the United Kingdom and has enjoyed huge success through her books – The Life Transformation Diet and Slim, Happy & Free.
These companion books offer a complete holistic approach to ending emotionally driven overeating and other self-defeating habits, and living a healthier, joyful life. Their friendly, authoritative tone – which makes them instantly accessible – is one of the keys to their success.
Joanne said: "I am so excited to be joining the premier community radio chat show in my home country."
Joanne was a junk food addict for more than 12 years, which left her obese, depressed and frequently unwell. She eventually took control of her eating habits and transformed her own life by nourishing her body and spirit and shifting her mindset. After a long battle, she eventually shed 63lbs (29kgs/4.5st) through her very own "life transformation diet" philosophy and strategies. She has kept the weight off for almost 30 years.
In 1986, at the age of 24, Joanne created the Slimming Together programme, which was introduced in the USA and UK to critical acclaim and which continues to enjoy worldwide popularity today.
Using her passion and enthusiasm to help people enjoy a full and happy life – by recognising their worth and value – Joanne has become a leading personal development & spiritual trainer, highly respected by many members of the medical profession who recommend her methods.
She been a guest on various BBC radio shows across the UK , has appeared on the Tonight programme on ITV and is a regular guest on BBC Radio Jersey. She has been a contributing expert to a number of health magazines in the UK and the USA, and her work is published in Chicken Soup for The Soul by Jack Canfield.
For a number of years, Joanne lived in California, where she presented workshops and seminars at The Agape International Spiritual Centre at Buckingham Parkway, Culver City. In addition, she taught her Slimming Together programme for The City of Malibu and at the New JCC at Milken in West Hills as well as the Learning Curve in West Hollywood, and the Bodhi Tree on Melrose. She gave workshops and presentations at various venues in Century City, Santa Monica and Marina Del Rey.
The Talk To Phil & Dave Show airs live every Tuesday at 2 p.m. (BST/GMT) and addresses serious issues affecting the lives of ordinary people in an unchallenging, down-to-earth setting while at the same time delivering a light-hearted entertainment package.
Hosted by body-centred therapist and counsellor Phyllis Joyce and journalist and media consultant David Boyes, the Talk To Phil & Dave Show first hit the airwaves in November 2013, with the aim of turning the spotlight every week on new topics of interest to listeners.
Since then, the programme has addressed a host of issues – including debt-management, diet, mental health, drug and alcohol misuse, post-traumatic stress, domestic violence, suicide and anxiety – either by responding to messages sent in by listeners or by way of live interviews with people who have been able to provide an insight into the subject at hand.
The interviewees are either experts in their fields or they are individuals who have first-hand knowledge of confronting some of life's obstacles and, as a result, have valuable experiences to share. The subjects that have been covered in the live interviews have included post-traumatic stress disorder, smoking cessation and mental and physical wellbeing and the plight of the homeless – courtesy of an exclusive interview with Big Issue Foundation CEO Stephen Robertson.
These on-air discussions are recorded and edited into podcasts before being uploaded to the TalkToPhilNow website, which acts as a gateway to the show and which offers important information to people in need of help as well as providing links to official support organisations.
The podcasts add a personal, durable and unique dimension to the catalogue of help available.
The website also gives the Talk To Phil & Dave show – which engages with listeners through text messages, Tweets and Facebook posts – the ability to guarantee the anonymity of those who would prefer to opt for privacy when reaching out for assistance.
They are directed to use a dedicated email address or are referred to a page on the site, where they can sign up through a registration form. Only the details of the issue at hand will be broadcast – not the individual's name or other personal information.
Pulse, which transmits on the 98.4 FM frequency, is a community radio station based in Barrhead, near Glasgow, UK, broadcasting to all of South Glasgow, the city centre, East Renfrewshire, Paisley, Renfrewshire and Clydebank and online.