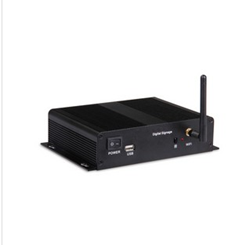 (PRWEB) August 07, 2014
Recently, Digital-Signage-China.com has added some new items to its collection of digital signage media players, and launched a promotion for August 2014. The CEO of the business, said, "We can expect a shopping wave in August, and this promotion will help to expand our customer base."
The new models come in the latest designs, and they actually are a comprehensive content management system, providing the platform for any integrated digital signage system. According to the CEO, the integrated digital content consists of video, images, web pages, RSS Feeds, rolling ticker feeds and live TV, all of which can be scheduled and altered quickly to efficiently optimize the impact of any targeted marketing communication.
"We are pleased to announce the new DSP-100E Digital Signage Players for old and new customers. I think worldwide people will be happy with these affordable and useful players. They are quite good items. By providing these affordable players, we want to attract more clients. Please note that the promotion will come to an end on July 28, 2014. Those who are interested in our new digital signage players should visit our website as soon as possible," the sales representative says.
Digital-Signage-China.com specializes in the manufacturing and wholesale of high-end and middle-end digital signage players, and it is popular in the industry for its reliable products at affordable prices. When people visit the company's official website, they will be impressed with the elaborate design and craftsmanship.
About Digital-Signage-China.com
Digital-Signage-China.com is a well-known digital signage technology company with the eligibility of production, installation and maintenance of digital signage products. The company has much experience in the industry, and its customers are provided with the best resources and professional tips. It aims to offer all kinds of high end digital signage products for the global market.
For more information about the business and its digital players, visit http://www.digital-signage-china.com/?content/product/26/index.html.