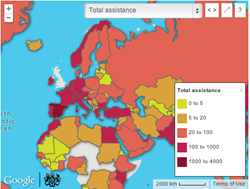 etravelsafety.com becomes an FCO Know Before You Go Partner.
Hereford, England (PRWEB UK) 11 August 2014
Etravelsafety.com is excited to become an FCO Know Before You Go (KBYG) Partner. In association with the 'Know Before You Go' Campaign, we are working with the Foreign & Commonwealth Office (FCO) to do all that we can to help British travellers stay safe overseas.
The FCO KBYG Campaign has just launched the British Behaviour Abroad Report 2014, which highlights the number and types of consular cases that the FCO dealt with in 2013/14. Millions of British nationals travel overseas every year and the majority have a trouble-free trip, but when things do go wrong FCO consular staff are available to provide help and support.
Over 17,000 British nationals required consular assistance in 2013/14. This past year has seen the number of hospitalisations fall to its lowest level for five years, with further reductions shown in the number of cases involving rape or sexual assault.
These findings continue to highlight the importance of the KBYG campaign and its aim of reducing the number of preventable consular assistance cases faced by British Nationals when abroad. The FCO encourages all travellers to remember 3 key things before they go away this summer:

Get comprehensive travel insurance — read the small print, declare pre-existing medical conditions and make sure it covers you for everything you want to do
Check health requirements — so you can get the right vaccinations and take any necessary medication such as anti-malaria tablets
Research your destination — the more clued up you are, the smoother your trip will be and the less likely you are to find yourself on the wrong side of foreign laws
As in 2013, the results from this year's report have been used to produce an interactive map to show the breakdown of incidents according to destination between April 2013 and March 2014. The map can be found at https://fcodata.github.io/britons-in-trouble-abroad/2014/ (along with codes to embed onto your website) and allows for individual countries to be selected, in addition to providing links to the latest advice for these individual destinations.
You will also be able to see more content shared from the FCO on their social media site's Twitter account @FCOtravel, or from us a @etravelsafety.
Etravelsafety.com provides Online Travel Safety Advice through an interactive platform.