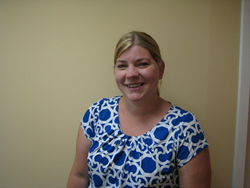 At Moss, we build trust through our ongoing relationships with clients as well as supporting our local community through sponsorships and volunteering
Chantilly, VA (PRWEB) August 11, 2014
Moss is pleased to announce that their Community Relations Department continues to grow with the addition of Pam Kopiak to the Moss Marketing Department. At Moss, Pam will act as a community liaison in order to bring HandyMOM 101 and HandyGirl 101 to moms' groups in Arlington, VA. She will also act as an active member of the community and contribute a monthly blog, specifically covering home improvements for Arlington, VA.
Pam was born in Tampa, FL but was raised in Woodbridge, VA. She attended college at George Mason University and received her Bachelors of Science degree in Public Administration. Pam enjoys traveling and has been to Ireland many times to visit her husband's family.
Throughout her travels to England and Germany, among other places, Pam finds that experiencing different cultures has left an invaluable mark on her and her personality. She feels that travel has allowed her to seek out new things and talk to people from different cultures, an experience that she maintains while volunteering at her children's schools or in her community. Pam looks forward to bringing this aspect to Moss and the Marketing team.
"Joining Moss' Community Relations team is very exciting for me. I have always been active in my own community and look forward to extending Moss' community outreach into Arlington. As a mother who enjoys being handy around the house, I look forward to hosting HandyMOM 101 and HandyGirl 101 classes in Arlington for other handy moms and girls to enjoy."
Pam debuts her first blog "Arlington Homeowners: To Plaster or Not to Plaster, Is That Really the Question?" next week.
Community Relations Manager, Jeannine Miller, sees Pam as an integral part of the growth of the department. "At Moss, we build trust through our ongoing relationships with clients as well as supporting our local community through sponsorships and volunteering. With the inclusion of Pam, we have the perspective of an Arlington homeowner, mother, and active community participant as well as someone with contagious enthusiasm."
A very important aspect of the Moss philosophy is giving back to their community, a support system which has constantly encouraged the company through the years. The sponsoring of local schools, charities, churches and clubs in their fundraising efforts is a large part of Moss' Community Relations department. In addition to these sponsorships, Moss offers educational programs like the HandyMOM 101 workshop series which teaches women DIY skills that are helpful in maintaining their homes.
Homeowners wishing to learn more about Moss' remodeling services in Northern Virginia—which include additions, kitchens, bathrooms, basements and home services—or who would like a free consultation, are encouraged to contact Moss or visit the company website at http://www.mossbuildinganddesign.com.
About Moss Building & Design and Moss Home Services
For Home Improvement in Northern Virginia, you can count on Moss Building & Design. Moss Building & Design and Moss Home Services are an award-winning, family-owned residential remodeling and home services company located in Chantilly, Virginia. Since 2001, Moss has established a reputation for excellence in remodeling additions, kitchens, bathrooms and basements and home services throughout Northern Virginia. Customers see Moss as a trusted partner and Moss is very proud of its exceptional 80% repeat customer and referral rates. Moss Building & Design has received consumer awards from Angie's List, industry awards for building and design, and also has an A+ rating from the Better Business Bureau.