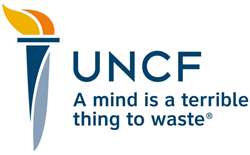 New York, NY (PRWEB) August 07, 2014
Many of New York's boldest names will put on their summer best and join UNCF (the United Negro College Fund) on August 23rd at the Third Annual "A Mind Is…" Hamptons Summer Benefit at the East Hampton Point Resort. The event, already a highlight of the Hamptons summer social calendar, has a serious purpose: supporting students and ensuring they receive the education they need to prepare them to become the leaders of the 21st century.
UNCF will be proudly presenting the UNCF Keeper of the Flame Award to Susan L. Taylor, Founder of National CARES Mentoring Movement and Editor-in-Chief Emeritus, Essence Magazine along with Author, Playwright and Producer, Khephra Burns, our longtime UNCF supporters. The UNCF "A Mind Is …" Hamptons Summer Benefit is chaired by Former First Lady of New York State Michelle Page Paterson, and Camille Clark. Co-chairs of the event are Valentino D. Carlotti, Troy Dixon, Dr. Gordon B. Anderson, Barbara North-Lightning, Jenna Bond, Dr. Gallane D. Abraham, Andwele J. Lewis, and Frederick E. Royall, III. The event is presented by the UNCF Leadership Council of New York.
For more information about the UNCF "A Mind Is …" Hamptons Summer Benefit or to RSVP, please call UNCF at (212) 820-0140 or visit http://give.uncf.org/hamptons.
WHO: UNCF (United Negro College Fund)
WHAT: Third Annual UNCF "A Mind Is …" Hamptons Summer Benefit
WHEN: Saturday, August 23, 2014
6:00 PM Cocktails
7:00 PM Dinner
WHERE: East Hampton Point Resort
295 Three Mile Harbor Road/Hog Creek Road
East Hampton, NY 11937
About UNCF
UNCF (United Negro College Fund) is the nation's largest and most effective minority education organization. To serve youth, the community and the nation, UNCF supports students' education and development through scholarships and other programs, strengthens its 37 member colleges and universities, and advocates for the importance of minority education and college readiness. UNCF institutions and other historically black colleges and universities are highly effective, awarding 20 percent of African American baccalaureate degrees. UNCF administers more than 400 programs, including scholarship, internship and fellowship, mentoring, summer enrichment, and curriculum and faculty development programs. Today, UNCF supports more than 60,000 students at over 900 colleges and universities. Learn more at http://www.uncf.org.
####