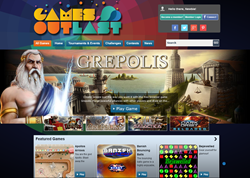 Hong Kong (PRWEB) August 08, 2014
The games site is targeted at a predominantly male audience, primarily between the ages of 15 to 45 and across the globe. The desktop browser gaming market is large and currently spans across the globe and has an active monthly audience of over 500 million active users, with this sector of the gaming market generating revenues in excess of US$6.6Bn per annum.
The GamesOutlast.com site offers the following core features and gaming content to their users:
600 games, including titles from leading game studios, such as BigPoint & R2 Games
Full integration with the micro payments platform, which includes avatar pimping, purchasing of in-game power-ups, sending of virtual gifts and many other transactive elements
Integration with Facebook Connect, allowing for quick and easy user registration
Tournaments
Challenges and Contests
Avatar Creation
Friends, Messaging and Virtual Gifts
Game Search Functionality
Live High Score Leader boards
Players Favourite Games
Social Sharing
The GamesOutlast.com site will offer regular tournaments that will allow users to pit themselves against other users and determine who the true top gamers are within the GamesOutlast.com gaming community. The tournaments will be expanded to include real world prizes, with users competing for not only the glory of holding the top slot on the leader boards, but being rewarded for their efforts with some great prizes and free credits.
When GamesOutlast.com was looking for a provider, they set out the following minimum qualifying criteria:
Ability to fully white label the look and feel of the games portal, while creating a brand that is able to differentiate itself from the other portals that run on the GameZBoost platform and the gaming sector at large;
Allow for integration with existing user registration platform, creating a single sign-on solution for users, thus allowing them to access all the content, without the need to re-register;
Be able to offer a broad selection of content that appeals to a male dominated audience, without detracting from and attracting and retaining a female audience.
Ability to offer a broad selection of 3rd party game content, which are integrated with the SSO elements of the platform, thus allowing users to register once and access all the content;
GamesOutlast.com required that the platform should offer them the following benefits:
Full extension of the primary brand;
Multiple revenue streams;
Proven user retention and acquisition medium;
New features and premium casual and MMO game titles will be added to the GamesOutlast.com site on a regular basis, be sure to check back on a regular basis.
Find out more at: http://www.gamesoutlast.com.
About GameZBoost:
GameZBoost has been in business since 2013, with the primary vision to provide publishers with a gaming solution that could be fully white labelled, localised and be seamlessly integrated with their existing user registration (Single Sign-on) platforms, thus allowing them to offer a compelling games offering to attract and retain users. The platform has been further enhanced with the addition of a number of new API's that allow 3rd party developers to integrate their titles into the platform. This gives the added advantage of offering publishers a single content management solution that is fully integrated with multiple game developers. Users need only register once and are then able to access all the titles and content across the games portal. To date the likes of BigPoint, R2 Games, XS Software, LeKool, Innogames, Blue Frog Gaming and a number of other premium game developers have integrate their titles into the GameZBoost platform.
Contact info for further information:
Website – http://www.gamesoutlast.com
Email – inquiries(at)gamesoutlast(dot)com