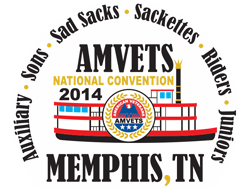 This week is about Service and Honor and renewing the nation's commitment to our veterans.AMVETS National Commander John H. Mitchell, Jr.
Lanham, Md. (PRWEB) August 07, 2014
AMVETS (American Veterans) members and its auxiliary organizations are marking their 70th Anniversary as one of America's premiere veterans service organizations during their convention in Memphis, Tenn. Aug. 11-17.
During their 70th Annual National Convention, AMVETS' hefty conference schedule will consist of electing new leadership, presenting and deciding on a long range plan, and voting on resolutions that will shape the organization and its efforts to ensure the future care and well-being of our nation's veterans, their families, and the communities where they live. Convention highlights include a keynote address from the newly appointed eighth Secretary of Veterans Affairs Robert A. McDonald during the Joint Opening Ceremony, and a veteran job fair featuring more than 40 local and national employers.
"The actions that AMVETS' leadership and membership take during our national convention will make a huge difference to the future of the AMVETS organization," said AMVETS National Commander John H. Mitchell, Jr. "This week is about Service and Honor and renewing the nation's commitment to our veterans. By making AMVETS stronger and more relevant than ever before, we are building better lives for our veterans and their families for the next 70 years and beyond. Our strengthened influence, leadership, and staunch advocacy continue to raise awareness of issues and provide viable solutions."
"This past year has seen a tremendous rise in the nation's awareness, outrage, and pursuit of resolving the plight of veterans," said David Gai, AMVETS National Communications Director. "AMVETS' voice is being heard and among the results AMVETS is driving as a national organization are the long-overdue accountability and complete top-to-bottom culture change now underway at the VA."
"We look forward to welcoming Robert McDonald, the new Secretary of Veterans Affairs at our joint opening ceremony," Mitchell said. "McDonald's appointment is a very encouraging sign of confidence in repairing public trust in the VA, providing a vital jump-start to reforming the VA and instilling the serious culture change needed. AMVETS is looking forward to working with him and continuing our role in providing vitally needed expertise, insight, and guidance along with the other VSOs."
To further address the notably high unemployment rate among returning veterans and transitioning military, AMVETS is hosting a Veteran Job Fair at its 2014 national convention on Wednesday, Aug. 13 from 11 a.m. to 3 p.m. More than 40 local and national employers are looking to provide immediate opportunities and help place military and spouses in need of employment. A seminar will also be provided by internationally recognized personal branding expert and author Lida Citroen, who has worked with returning veterans across various channels, teaching them personal branding, marketing resources, and social media skills to better aid their relevancy in a competitive job search.
To find out more about the 2014 AMVETS National Convention visit 2014amvets.poweredbytwg.com/, and the Veteran Job Fair at http://www.amvets.org/vetjobfair
Media interests should be directed to David Gai, AMVETS National Communications Director at dgai(at)amvets(dot)org or 703-966-2267.
About AMVETS:
A leader since 1944 in preserving the freedoms secured by America's armed forces, AMVETS provides support for veterans and the active military in procuring their earned entitlements, as well as community service and legislative reform that enhances the quality of life for this nation's citizens and veterans alike. AMVETS is one of the largest congressionally-chartered veterans' service organizations in the United States, and includes members from each branch of the military, including the National Guard and Reserve. To learn more, visit http://www.amvets.org.