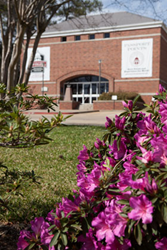 Shreveport, LA (PRWEB) August 07, 2014
Centenary is welcoming two new visiting faculty members to campus, Dr. Chandra P. Pokhrel and Dr. Paul Young Kim, just in time for the new school year.
"Centenary is thrilled to bring Drs. Pokhrel and Kim on board as we enter the new academic year," said Jenifer K. Ward, Provost and Dean of the College. "They will enrich our Physics and Computer Science course offerings and our students will benefit immensely from their expertise."
Pokhrel is the new Visiting Assistant Professor of Physics. Pokhrel has more than 15 years of teaching experience with various physics courses including mechanics, electricity and magnetism, light and optics, modern physics, and waves and oscillations while at Ryerson University, Kent State University, and Kathmandu University. She earned her B.Ed. at Kathmandu University in Dhulikhel, Nepal; Master's degree in biomedical physics from Ryerson University in Toronto, Canada; and PhD in physics from Kent State University in Kent, Ohio. Pokhrel comes to Centenary from Ryerson University where she was a teaching assistant.
Kim is the new Visiting Assistant Professor of Computer Science. Kim has been teaching since 2001. He received his B.S. at Kwangwoon University in Seoul, Korea; Master's in electrical engineering at the University of Texas-Arlington in Arlington, Texas; Ph.D. in Electrical Engineering with an emphasis on neural networks, image restoration, and multi level signal processing at the University of Texas-Arlington; and a Ph.D. in Electrical and Computer Engineering with an emphasis on data mining, machine learning, pattern recognition, and biomedical image/data processing for retinal images at the University of Memphis in Memphis, Tennessee. He comes to Centenary from the Department of Neurology at LSU Health Science Center Shreveport where he was a postdoctoral research fellow.
###
About Centenary College of Louisiana
Centenary College of Louisiana is a selective, residential, national liberal arts college affiliated with the United Methodist Church. Founded in 1825, it is the oldest chartered liberal arts college west of the Mississippi River and is a member of the Associated Colleges of the South.