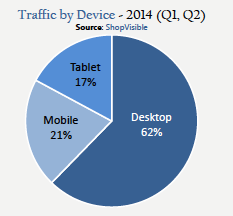 As mobile commerce continues to grow at such a rapid rate, online retailers are realizing the need for an optimized user experience on all devices.
Atlanta, GA (PRWEB) August 11, 2014
On the 20th anniversary of the first online transaction, ShopVisible releases its Influence & Impact report, finding that site traffic from mobile devices and tablets continue to increase in 2014, capturing 38 percent of all site traffic during the first half of the year. However, despite the growing percentage of traffic, conversion rates remain much lower on mobile devices and tablets, signaling a greater need to focus on an omnichannel user experience for all visitors, regardless of device.
In celebration of this industry milestone, the eCommerce leader provides online retailers timely insights with data comparisons from Q1 and Q2 of 2014 versus the same time period in 2013. ShopVisible's customers saw an 18 percent overall increase in online revenue during the first half of the year, with a 42 percent increase alone in the month of June. Online shopping behaviors such as site traffic, orders & revenue, conversion & average order value, and mobile/tablet specific key performance indicators are captured in the report.
ShopVisible attributes the significant increase in overall online revenue to data-driven merchandising and site optimization techniques implemented by its clients, which led to a 20 percent increase in total items sold as well as an 11 percent increase in number of items per transaction. Total website traffic from all sources increased by nine percent, with 67 percent of site visits coming from new visitors. As online businesses effectively attracted new customers with SEO strategy and marketing efforts, it is clear that many have also invested in user experience, as conversion rates held steady overall – two percent on average – despite growth in new customers, which typically results in lower conversion rates.
In its previous benchmarking report, ShopVisible identified an increasing amount of mobile site traffic on its client sites, a trend that has grown eight percent since 2013. With only a slight increase in orders from mobile devices and tablets, the new report signals that consumers are increasingly browsing from these devices but have yet to transact in the same way as they would in a traditional browser/web experience. Additionally, average order values remain much lower on mobile devices than those on a desktop or laptop, emphasizing a significant opportunity for online retailers to increase overall revenue from mobile devices and tablets through optimization.
"Our Influence & Impact report provides timely insights into shoppers' online buying behaviors and areas of opportunity for growth," said Sean Cook, CEO of ShopVisible. "As mobile commerce continues to grow at such a rapid rate, online retailers are realizing the need for an optimized user experience on all devices. eCommerce has come a long way in 20 years and our data-driven insights provide retailers a snapshot of their customers as well as their omnichannel expectations."
Click here to download ShopVisible's Influence & Impact report for additional trending behaviors and eCommerce insights from the first half of 2014.
###
About ShopVisible
ShopVisible is an end-to-end SaaS commerce platform that powers the shopping experiences of today. Whether your customer is an individual consumer or a business, we power the commerce sites that enable them to buy from you. Reach your customers online, on their mobile devices or through popular channels like Amazon and eBay. ShopVisible also enables your back office management including orders, inventory, channel, content management and more. With our APIs, the ShopVisible commerce platform is extensible and easily integrates to 3rd party systems such as fulfillment, ERP, PIM, and other platforms that are core to your business. ShopVisible helps brands and businesses to attract and retain the new connected customer and is the chosen platform for companies like 3M, Century Martial Arts, Tempur-Pedic, Office Depot Canada, Plow & Hearth and MovieMars. Learn more at ShopVisible.com and by following @ShopVisible.