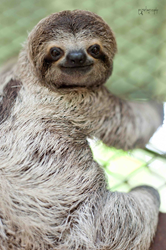 They're special creatures that always seem to be smiling, and are in no hurry to go anywhere. In Costa Rica, we consider this a 'pura vida' lifestyle.
Manuel Antonio, Costa Rica (PRWEB) October 17, 2014
Tulemar Vacation Homes in Manuel Antonio, Costa Rica, is ranked the #1 resort in the area on TripAdvisor, and one of the features that makes this vacation spot so special are the daily wildlife sightings throughout the grounds. Monkeys, sloths, toucans, iguanas, frogs, and more inhabit the 33-acre property on the hillside, a pro-wildlife conservation resort.
October 19th will mark the 3rd annual International Sloth Day, an event created by the Foundation AIUNAU to promote sloth well-being, conservation, and global awareness of the species.
It seems their efforts may have had success, with sloths becoming a worldwide trend in today's pop culture. Evidence of this is seen in their appearances as animated characters in the kids films Ice Age and The Croods, and viral YouTube videos like "Kristen Bell's Sloth Meltdown" in 2012 and the famous video in 2011 that showed a sloth crossing the street to "I Believe I Can Fly." Google trends present a huge jump in 2013 for the amount of people searching for these two and three-toed creatures, globally.
Tulemar Vacation Homes is a popular place to see these slow-moving animals; Chris Madrigal, a personal concierge at Tulemar Vacation Homes comments, "We're so lucky to get to see these adorable sloths everyday, and share the experience with our guests; they fall in love instantly. When you see a baby sloth - that is really something special."
To celebrate International Sloth Day, Tulemar has adopted their own sloth by donating to Adopt-A-Sloth by the Sloth Institute of Costa Rica. The program is open to anyone wishing to make a donation towards the rehabilitation and conservation of sloths.
Tulemar also invites everyone to join the celebration by posting your favorite "sloth photo" on social media. To participate, just tag @tulemarvacationhomes to your image on Instagram, or post a picture to their Facebook wall at facebook.com/tulemar; the winning photo will be featured in Tulemar Vacation Home's monthly newsletter.
"I think we still get just as excited as our guests when we see a sloth," says Madrigal. "Even though we see them almost every day, they're special creatures that always seem to be smiling, and are in no hurry to go anywhere. In Costa Rica, we consider this a 'pura vida' lifestyle."