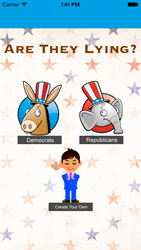 Clever app that was really fun during our recent dinner party. - Andrea W.
Lecanto, FL (PRWEB) August 12, 2014
Instead of having that hopeless feeling of listening to negative political ads during the campaign season, Radchill LLC provides a new iPhone app called Are They Lying. It displays prominent politicians, each with five different statements on which users can cast a Lie or Truth vote. With a lie vote the politician's nose grows. If the politician receives three lie votes, then the screen appears to shatter, a glass shattering sound is played, and the iPhone vibrates. The app, which is free, is currently available on the iTunes Store (click here).
Are They Lying also has the capability of adding other pictures and statements. This permits the user to add a boss, girlfriend, boyfriend, husband, wife, teacher, classmate, historic figures, other politicians, etc. providing many laughs.
A video of the app is available on YouTube http://youtu.be/pJhXwvtDfCE.