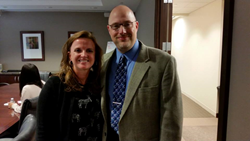 Rosemont, IL (PRWEB) August 09, 2014
On Tuesday, July 15th, Duke Realty kicked off its Wellness Initiative, starting with a presentation on the American Heart Association's "Life's Simple 7™" in association with the Disque Foundation. Chris Peters, a registered nurse with over 15 years treating patients with cardiovascular disease, spoke to associates at our Rosemont, IL offices. He discussed the American Heart Association's "Life's Simple 7™" plan to help people assess the health of their heart and take steps to prevent heart disease before it starts.
Approximately 600,000 people die of heart disease in the US every year - that's one out of every four deaths! These deaths are preventable, with effective ways of reducing modifiable risk factors. In designing the program, the AHA seeks to help build lives free of cardiovascular disease by helping people take control of those risk factors. Chris discussed taking control of 7 steps in heart health: managing blood pressure, increasing activity, managing cholesterol, improving nutrition, weight loss, stopping smoking, and lowering blood sugar. Duke Realty hopes that by managing these 7 steps our associates will live longer, healthier, happier lives.

Control blood pressure: the single most significant factor, a silent killer! Many people have high blood pressure and do not know it.
Get active: Sedentary lifestyles contribute to high blood pressure and obesity. Getting active also lowers stress and is enjoyable.
Lower cholesterol: Cholesterol contributes to plaque formation that can raise your risk of heart attack or stroke.
Eat better: Improving nutrition helps weight loss, lowers cholesterol, and blood pressure.
Lose weight: Increased weight raises blood pressure, increases fat deposits in body tissues, contributes to sleep apnea and increases risk of blood clots.
Don't smoke: Smoking is the number 1 modifiable cause of death. Quitting smoking is difficult and often takes many attempts to succeed but the health benefit is enormous.
Reduce blood sugar: High blood sugar encourages the growth of plaque in your arteries, raises your risk of diabetes, stroke, and heart disease.
By following these Simple 7™ steps, Duke Realty's associates will be better equipped to improve their health. We will be partnering with the AHA on other heart-friendly events as well, including the upcoming Heart Walk in September. This event will help everyone get active, as well as raise money to fight heart disease. Duke Realty's value of responsibility encourages us all to do the right thing, which includes taking care of our hearts.
The Disque Foundation is a nonprofit organization with the mission of advancing health care education to the underserved both domestic and abroad. The Foundation works closely with National Health Care Provider Solutions (NHCPS) to increase their efforts and provide education to those with the greatest need. Members of the Foundation have previously contributed to efforts in areas such as Haiti, Ethiopia, Costa Rica, Panama, Malaysia, and the United States. For more information please visit nhcps.com or disquefoundation.org.