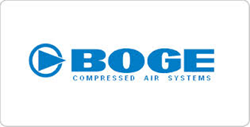 Powder Springs, GA (PRWEB) August 11, 2014
The BOGE airstatus is based on pioneering technology that redefines the communications between man and machine. This remote diagnostics tool by BOGE is a new solution which increases safety and transparency in compressed air production and all associated components. This tool maintains the high-level performance and efficiency of your compressed air station and is ideally suited for monitoring and managing complex systems and plants.
With airstatus, users have the status of up to 32 components firmly under control - from anywhere in the world. Process data such as status, maintenance messages, temperatures and pressures are directly transmitted and displayed, making airstatus a powerful remote diagnostics tool. Users can identify, analyze and react immediately to fault messages on their own computer or smartphone, considerably reducing the time needed to rectify faults. Or you can use the BOGE airstatus for condition monitoring in order to manage proactive measures and to plan and coordinate maintenance work. All of this can be easily managed using the BOGE airstatus app, which works with all mobile iOS and Android devices.
Easy installation, lasting safety
A ModbusScan to detect each of the compressors and components makes it easy to commission the BOGE airstatus monitoring facility. The system data communication is processed in real-time via GSM/GPRS or a LAN connection. Users can view data in the BOGE airstatus web portal or in the BOGE airstatus APP. Alarm management by email or SMS if defined limits are exceeded or undercut provides an additional safety feature.
About BOGE Compressors:
BOGE America is the United States of America Daughter Company of BOGE KOMPRESSOREN Otto Boge GmbH & Co. KG based in Bielefeld, Germany. BOGE manufactures a comprehensive range of oil lubricated and oil free screw and piston compressors used by all sectors of industry to supply compressed air for a wide range of manufacturing processes. It also supplies a complementary range of filters, dryers and condensate management equipment. The product is sold and serviced through a dedicated network of over 50 distributors in North and South America.