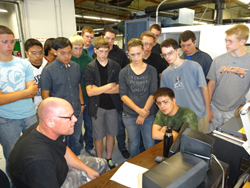 On Manufacturing Day tours, both college and high school students benefit from talking with employees about their work, seeing how products are made and learning about careers.
Rocklin, CA (PRWEB) August 08, 2014
Manufacturers in the Sacramento region are invited to participate in the month-long series of events that kick-off on National Manufacturing Day, October 3. Companies that invent, design, fabricate or assemble products locally can register now and get assistance from the Sacramento Valley Chapter of SME and the Sierra College Center for Applied Competitive Technologies (CACT).
SME Sacramento Valley president-elect, Jeff Briggs, explained that SME hopes the event will encourage manufacturers to reach out to their communities, schools and workforce. "Few people realize how much gets made right here in the Central Valley and Sierra Foothills," said Briggs. "SME can help companies organize events and share what other businesses are doing during October to show off the positive impact manufacturing has on our communities." Employers can go to http://www.sacvalleysme.org to see more information as well as register events.
According to Carol Pepper-Kittredge, CACT Director, Sierra College, she can connect manufacturers to schools and colleges located near their worksites. "Last year, both college and high school teachers brought their students on tours," said Pepper-Kittredge. "Talking to employees, learning about career paths and seeing familiar tools used to make products on the plant floor positively impacted students." The Manufacturing Day flyer is posted at the Sierra College CACT website
Businesses can hold events with their suppliers and customers, invite the community to see demonstrations of state-of-the-art robotics and manufacturing, arrange to speak at schools, collaborate with faculty to plan a tour that relates to what students are studying and/or encourage employees to bring their families to the plant for tours and a picnic or barbeque.
About SME
SME connects all those who are passionate about making things that improve our world. As a nonprofit organization, SME has served practitioners, companies, educators, government and communities across the manufacturing spectrum for more than 80 years. Through its strategic areas of events, media, membership, training and development, and the SME Education Foundation, SME is uniquely dedicated to advancing manufacturing by addressing both knowledge and skill needs for industry. The Sacramento Valley Chapter of SME offers tours, professional development and other resources to support members in achieving manufacturing excellence.
About Sierra College CACT
Sierra College Center for Applied Competitive Technologies (CACT) is focused on Advanced Manufacturing and is funded through the Workforce and Economic Development program of the California Community College Chancellor's Office. Since 1992, the Sierra College CACT has provided customized training in lean, process improvement, zero waste, supervision, workplace software, communication and many other topics for organizations, manufacturers and technology companies throughout Northern California. For more information, contact Carol Pepper-Kittredge at training(at)sierracollege.edu or 916-660-7801.