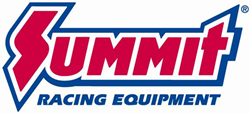 Tallmadge, OH (PRWEB) August 19, 2014
Performance upgrades don't mean squat if the engine isn't getting adequate spark delivery. Summit Racing has added new MSD distributors to help make sure enthusiasts get the spark to improve engine performance.
Perfect for big and small block Chevy engines, the MSD Street Fire HEI Distributor packs a high-output coil and distributor into a single package. The two components work together to deliver a high-energy spark to each cylinder, resulting in significantly improved combustion. MSD's Street Fire distributor features a magnetic trigger, and works with both vacuum and mechanical advance engines.
MSD's Pro-Billet Distributors offer solid spark accuracy, even in excess of 10,000 RPM. The housings are machined from high quality aluminum, and the shaft is coated to reduce friction and resist corrosion. These magnetic pickup distributors are available for most domestic 4-, 6-, and 8-cylinder engines, as well as Volkswagen air-cooled 4-cylinders. MSD also offers small diameter models for installation in cramped engine bays.
For owners of older engines, MSD's Pro-Billet Ready-to-Run Distributors offer an easy way to replace older points-style distributors. These distributors are also an excellent way to upgrade a tired daily-driver's ignition system for some modern reliability and performance. They are designed to improve starting, smooth out a rough idle, and perform better at high RPM. As the name implies, Ready-to-Run distributors are an almost drop-in affair. They're available for most domestic 4-, 6-, and 8-cylinder engines (including AMC), and come in both mechanical and vacuum advance varieties.
MSD makes several other distributor types including a few for marine applications.
See all MSD Distributors at Summit Racing.
Summit Racing Equipment
http://www.SummitRacing.com
1-800-230-3030