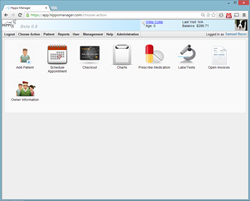 Louisville, KY (PRWEB) August 12, 2014
DRE Veterinary — a new and professionally refurbished equipment supplier — now offers Hippo Manager, a Veterinary Practice Management Software that is easy-to-use, affordable, and accessible from anywhere.
Hippo Manager Veterinary Practice Management Software combines medical charting, appointment scheduling, point of sale systems and inventory management to simplify practice management. As physicians make notes in a patient's medical records, the software automatically generates appointments, reminders, billing, user tasks and updates to inventory.
The software's cloud-based setup addresses many common complaints about practice management systems: there is no investment in expensive hardware, no extra cost for tech support, and there are no maintenance fees.
Hippo Manager is available through a simple, affordable pricing plan. There is one monthly charge per veterinarian (all other staff members are free). Included in the price is training and support, such as free webinars with a live instructor, technical support and online, self-paced training.
Features include:

The Point of Sale System is seamlessly integrated with charting, inventory and financials to reduce steps in the record-keeping process. This system facilitates transaction entry, invoicing, coupons, gift cards, discounts, inventory, email receipts and much more.
Inventory is easy to manage, receive and reorder, allowing vets to maintain stock levels and accurately track margins.
Easily attach any document or image to a patient's record without size constraints.
Medical charts and histories are iPad/tablet ready, so veterinarians can run an entire practice from an iPad/tablet, with no scaled-down apps or chopped-up functionality.
"We're excited to offer Hippo Manager Practice Management Software because it will make practice management simple," said Nathan Claypool, Director of DRE Veterinary Health and Animal Sciences. "It keeps costs down, and it's easy to learn and easy to use."
The Hippo Appointment Scheduler is highly customizable, allowing vets to choose and prioritize the features that are most important to them.
Hippo Management Software is cloud-based so vets can work from anywhere, anytime. This also means unlimited storage – there are no limits on the number of patients or amounts of data. There is no need for servers, specific types of workstations or expensive software licenses.
Additional features:

Disaster recovery provided
Offsite backup management included
Reminders generated (including postcards)
Detailed reports and business intelligence tools included
Data from an existing practice management system can be converted to Hippo Manager for a one-time fee, allowing practices to keep all their current records.
Getting started takes just minutes. To get set up, call a DRE associate at (800) 979-6795 or visit dreveterinary.com.
About DRE Veterinary
DRE Veterinary provides a combination of new and professionally refurbished used medical equipment to veterinarians, veterinary surgery centers, research facilities, universities and technical schools. For more than 25 years, DRE Veterinary has worked with many of North America's top veterinary facilities and organizations, providing products and services that save time and money, and allow veterinary surgeons to do the things they do best. DRE Veterinary is located in Louisville, KY.