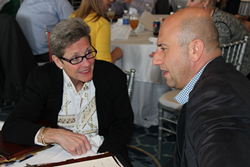 From PBS Special Host Bill Crawford teaching us how to deal with stress and 'difficult people' to mental coach for professional athletes Travis Thomas giving an unexpected tool to bring your communication to the next level – our team is stacked.
St. Louis, MO (PRWEB) August 13, 2014
John O'Leary, internationally acclaimed speaker and expert on leadership and overcoming adversity, announced the expert panel for his signature LAUNCH Leadership Renewal Conference November 13 and 14, 2014 in St. Louis, MO.
"I am thrilled with the experts joining me in November," O'Leary says, "from PBS Special Host Bill Crawford teaching us how to deal with stress and 'difficult people' to mental coach for professional athletes Travis Thomas giving an unexpected tool to bring your communication to the next level – our team is stacked. Attendees are set to receive a highly energizing, entertaining and motivational two-days and more importantly: tools to LAUNCH back into everyday life armed to overcome adversity and capitalize on opportunity."
LAUNCH is a sell-out event at which O'Leary shares his "Critical Choices" that free leaders to effectively navigate adversity, envision what is possible and impact others.
"After years of delivering inspirational keynotes and workshops at 150 private client events around the world annually, business leaders and event attendees kept asking for more!" O'Leary says. "So I created my LAUNCH Conference to 'give more' and dig deeper in an intimate setting."
O'Leary and his elite team of experts aim to deliver on a twofold goal at LAUNCH. First, to refuel the critical components of the attendees' lives armed with O'Leary's "Critical Choices." Second, to give the tools and mindset to sustain this perspective and vision once back in day-to-day life. For the November 13 and 14, 2014 LAUNCH Conference, John's expert panel includes:
Dr. Bill Crawford, PBS Special Host, Author and Psychologist, has been critically heralded for his breakthrough programs on the psychology of overcoming adversity. Crawford will reveal the myths and triggers of personal stress, how it severely limits effectiveness and a four-step process to shift from the stress that limits personally, relationally and professionally to a mindset that produces clarity, confidence, creativity and success.
Travis Thomas, Mental Coach for Professional Athletes, is trusted by professional athletes and leaders to transform their internal and external roadblocks into opportunity. Thomas' entertaining and unexpected session will offer an opportunity to immediately implement an out-of-the-box tool to improve internal and external dialogue. This tool has proven effective in uniting teams, breaking down boundaries and achieving goals.
John Puffer, Culture Index Executive Consultant, will share the Culture Index, the most accurate personality testing tool on the market and the only one allowed in the US Judicial System. The Culture Index will provide a baseline of style, demeanor, character, drive, impetus and energy to each attendee so that he can gain insight into his motivations and aptitudes. Culture Index is often used for talent recruitment, management and retention. Puffer will also reveal how the unique motivations and aptitudes of attendees powerfully impact their culture at work and home.
Edie Varley is a faculty member at Washington University in St. Louis, President of The Varley Group and an emotional intelligence practitioner. With 25 years of knowledge and experience as owner and operator of a multi-million dollar chemical manufacturing company, Varley will help attendees simplify decision-making and more effectively deal with everyday risks. Varley will provide three strategies that set leaders apart from competitors and derive remarkable results – what she calls "your absolute advantage."
Matt Miller, President of the Missouri Association of Elementary School Principals and former St. Louis Elementary School Principal of the Year, is an educational change agent and he will reignite attendees' childhood dreams of possibility. He will share the three questions most people ask themselves everyday – and the real impact their answers have. He will illustrate the two strategies he's utilized to transform his schools into award-winning status. These strategies – along with one surprise resource – will translate to creating a winning culture and real success in the classroom, boardroom and family room.
Don Eggleston is a mission and culture building expert. As Vice President of Mission and Values for an 18-hospital, multi-state, billion dollar health care organization, Eggleston manifested and leads a critical process that ensures more than 14,000 employees live the organization's mission and values with every patient, in every interaction. He will share the key components to his strategy including appreciative inquiry, courageous conversation, and the real economic engine that drives engagement, culture and results.
LAUNCH is a sell-out event and space is limited. Register today http://www.risingabove.com.