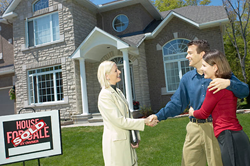 People are most likely to remodel as soon as they purchase a new home.
Los Angeles, CA (PRWEB) August 07, 2014
Hi-Tech Builders Inc. is in the business of strategically building the absolute best relationships with their clients, and now, they are partnering up with realtors all across Southern California to bring more of their prestigious work to local customers. With the primary launch of their Real Estate Referral Program, real estate professionals now have the unique opportunity to partner with Hi-Tech Builders while obtaining a ten percent commission for client referrals.
The true appeal is in the simplicity of the program. When a realtor sells a home that lends itself to remodeling, they simply direct their client to Hi-Tech Builders to carry out the remodel. Once the project is complete, the real estate agent will receive a "no-nonsense" ten percent commission based on the total cost of the project. Talia Weldon, Advertising Director for Hi-Tech Builders, Inc. stated, "People are most likely to remodel as soon as they purchase a new home, so it was a no-brainer to create this program for us."
Along with the generous commission, all partnering agents will also receive free online advertising. Any agent that opts into the referral partnership will receive free recognition as an affiliate of HTBI on the Hi-Tech Builders Inc. website immediately following their first referral. This recognition includes contact information and photo representation for the duration of the referral partnership.
Already "on-the-go," Hi-Tech Builders is proud to announce their first contract partnership with referral agent Jeff Pantanella. Owner and founder of Pantanella Partners, Jeff sports over a decade of experience in the real estate industry. Pantanella Partners is a boutique real estate brokerage, catering specifically to the luxury home market in Southern California, and Hi-Tech Builders Inc. is truly excited to partner with such a well-known industry expert. For more information about Pantanella Partners, please visit http://www.pantanellapartners.com/team/.
Looking to partner with Hi-Tech Builders? HTBI is currently looking for referral agents to represent each area they service. But don't wait to join in this partnership because Hi-Tech is only accepting one referral agent per service area. HTBI is presently accepting referral partner requests in the following areas: San Diego, Santa Barbara, Ventura, and Orange Counties.
About High-Tech Builders Inc.
For over a decade, High-Tech Builders has served the greater Los Angeles, Orange, and Ventura areas as a leading value-based, full-service construction company. This family-owned business delivers high quality construction and remodeling for individual homes, providing unwavering top-notch customer service without exception. From home building to pool remodels to landscaping, High-Tech Builders will customize every detail, turning your vision into a full-scale reality that you can enjoy for years to come.
For more information about High-Tech Inc., please visit: http://hi-techbuildersinc.com/.
To follow High-Tech Builders on Facebook or Twitter, please visit:
http://www.facebook.com/hitechbuildersinc