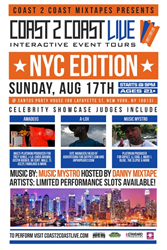 New York, NY (PRWEB) August 11, 2014
Coast 2 Coast LIVE coming to New York City, New York on August 17, 2014. Working to bring together celebrity judges and industry professionals including DJs, Producers, A&Rs and more. Coast 2 Coast LIVE provides both major artists and indie artists alike an opportunity to network and perform for prizes and recognition. Artists can submit to perform during this event at Coast 2 Coast LIVE. (Limited slots available!)
Coast 2 Coast LIVE NYC Edition will feature an artist showcase that will be judged by various celebrity judges spanning the music industry. Featured performers include Tiffany Mynon and Unique. Showcase performers include: Juice Porter, K.Cash, Wally Fattz, Famou$, Civil Kings, Loyalty, Less-On and many more, so be sure to come out and support the all local artists.
Event Information:
Santos Party House | 96 Lafayette Street New York City, NY 10013 | Age Limit: 21+
Guest Judges:
Amadeus | Multi-Platinum Producer for Trey Songz, JLo, Chris Brown, Justin Bieber, 50 Cent, Wale, T.I, Jeezy, Fabolous & more
A-Lox | Site Manager/Head of Advertising for DatPiff.com & HipHopEarly.com
Music Mystro | Platinum Producer for Dipset, LL Cool J, Mary J Blige, The Clipse & more
To find out more about Coast 2 Coast LIVE NYC Edition or the Coast 2 Coast LIVE August Tour, please visit our website. Artists can submit to perform by going to http://www.coast2coastlive.com and media, DJs and models can register for free to any events at http://www.coast2coastlive.com/events.
About Coast 2 Coast LIVE:
Coast 2 Coast LIVE tours in over 10 cities every month to bring indie artists major opportunities through our interactive showcase events. Artists submit their music via the website and get votes through email/twitter to perform in their city. Judges then critique the artists in various categories to find a winner for every city to help take their music career to the next level. For more information, please visit us at http://www.coast2coastlive.com.