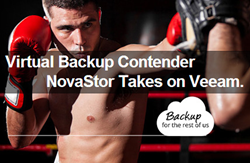 Our goal with this campaign is to educate potential resellers, existing partners, and end users about the benefits of using NovaBACKUP in physical or mixed environments...
Agoura HIlls, California (PRWEB) August 08, 2014
NovaStor, an international provider of award-winning backup solutions, today announced the new "Get in the Ring" campaign that offers potential resellers and existing partners higher margins and end users a more cost-effective backup solution. Taking aim at potential resellers, existing partners and end users that need more than just a virtual solution that Veeam provides, NovaBACKUP fits seamlessly into any physical, virtual or mixed environment.
The fully integrated campaign will focus on bringing value and awareness to small business Veeam resellers, existing partners and end users. NovaStor's new Virtual Technology Fact Sheet for Small Business offers insight and considerations when determining the best fit backup solution for a mixed environment.
Designed specifically for small businesses who have physical, virtual or mixed environments, NovaBACKUP enables customers to keep the overall cost of implementation low, infrastructure requirements at a minimum, and management and recovery easy. With NovaBACKUP's all-in-one solution and free Setup Assistance, customers can also set up a backup solution within minutes – all from a virtual dashboard.
"We realized that many resellers and customers didn't understand the full capabilities of NovaBACKUP and how well it fits into small business environments," said Mike Andrews, Managing Director at NovaStor. "Our goal with this campaign is to educate potential resellers, existing partners, and end users about the benefits of using NovaBACKUP in physical or mixed environments where Veeam doesn't offer a solution. And for those who have already integrated a Veeam solution, NovaBACKUP is a cost-effective compliment to handle backup of the physical machines."
While recent surveys show that many small businesses have migrated towards virtualization, nearly 50% still run their environments with a combination of both physical and virtual servers. Understanding this continuing trend, NovaStor's campaign addresses the needs of the small business owners today and into the future. For resellers, this means managing multiple installations of customers remotely with the ability to modify and schedule backup and restore jobs with the NovaBACKUP Central Management Console that saves time and money. And for end users, the total cost of backup and implementation using NovaBACKUP instead of Veeam offers customers the option to deploy a backup solution at a fraction of the cost that supports multiple Windows environments, and an easy configuration process.
As part of the "Get in the Ring" campaign, resellers and end users will have the opportunity to learn more about NovaBACKUP and Veeam in the small business market with informative and useful documentation, webinars, and articles.
To download the NovaStor "Virtualization Technology for Small Business" fact sheet click here.
To become a NovaStor ValueCreate reseller partner, visit: http://www.novastor.com/partner
About NovaStor:
NovaStor® (http://www.novastor.com) is an international provider of powerful, affordable, all inclusive data-protection solutions for physical and virtual environments. NovaStor provides backup & restore solutions to Small and Medium Business (SMB) as well as Enterprise environments to protect data on Both Sides of the Cloud. NovaStor's SMB solution NovaBACKUP® is rated #1 for businesses requiring local and remote protection of Windows Servers, VMware, Hyper-V and NAS environments with advanced monitoring capability, detailed reporting, and administration from a Central Management Console. NovaStor's Enterprise solution NovaBACKUP DataCenter brings F500 references, scalability, reliability and speed to medium-large heterogeneous environments; a single pane of glass designed to reduce administrative effort and lower TCO. NovaStor' Setup Assistance is an industry first where experts relieve clients from the complexity of installation and support. NovaStor is management-owned with over 5,000 partners, and millions of seats distributed. With global headquarters located in Zug, Switzerland and offices in Germany (Hamburg) and the USA (Agoura Hills), NovaStor is also represented in numerous other countries through partnerships.