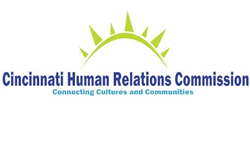 Cincinnati, OH (PRWEB) August 08, 2014
The Cincinnati Human Relations Commission (CHRC) is proud to announce that our Executive Director, Dr. Ericka King-Betts, was selected to the Business Courier's 2014 Forty Under 40 class.
On Tuesday, September 30th the Business Courier will recognize the 2014 Forty Under 40 class. This special awards luncheon celebrates our community's next generation of leaders and innovators. At this luncheon, the Business Courier will also recognize the Second Act honorees, celebrating Cincinnatians who have found success after a first career, as either an owner or manager.
We extend congratulations to the 2014 Forty Under 40 class and Second Act honorees:
Forty Under 40 class
•Sarah Anderson, Cintrifuse
•Shawn Baker, Comey & Shepherd Realtors
•Aine Baldwin, Kroger Co.
•Jennifer Bellin, Paycor
•Paul Bessire, PredictionMachine.com
•Clare Blankemeyer. Mayerson Foundation
•Shannan Boyer, Scooter Media Co.
•Katie Brass, The Carnegie
•Michael Browning, Cincinnati Children's Hospital Medical Center
•Tennel Bryant, Aunty's Homemade Food
•Chad Burke, GBBN Architects
•Brendon Cull, Kroger Co.
•Meghan Cummings, Greater Cincinnati Foundation
•Carine de Lange, Ronald McDonald House Charities of Greater Cincinnati
•Tamaya Dennard, City of Cincinnati
•Justin Dobbs, Nielsen
•Lauren Doyle, Wordsworth Communications
•Jill Dunne, SORTA/Metro
•Julie Dusing, Bank of Kentucky
•Mark Fisher, Cincinnati Zoo & Botanical Garden
•Bridget Hoffman, Taft Stettinius & Hollister LLP
•Dr. Ericka King-Betts, Cincinnati Human Relations Commission
•Dr. Gregg Kottyan, Cincinnati Children's Hospital Medical Center
•Adrijana Kowatsch, UC Economics Center
•Edward Kuresman, Madison Wealth Management
•David Le, Lang Thang Group
•David Little, Crossroads
•Ross Meyer, United Way of Greater Cincinnati
•Teri Morris, Duke Energy
•Melissa Newman, Juvenile Diabetes Research Foundation & University of Cincinnati
•Paaras Parker, Macy's Inc.
•Cinnamon Pelly, The Community Builders Inc.
•Brian Phillips, Cincinnati Shakespeare Company
•Jon Salisbury, Nexigen Communications
•Cherylanne Skolnicki, Nourish
•David Spaulding, Turner Construction Co.
•Yvonne Starkey-Posey, Empower MediaMarketing & University of Cincinnati
•Janaya Trotter Bratton, Trotter Law LLC
•Jordan Weidner, Cassidy Turley
•Jack Weston, Rhinehaus
Second Act honorees
•Gina Drosos, Assurex Health
•Barbara Dundee, Marvin Lewis Community Fund
•Linda Fritz, Sun Sugar Farms and CRESBI
•Greg Hardman, Christian Moerlein Brewing Co.
•Greg Huntington, True Joy Acoustics LLC
•Dan Hurley, Cincinnati USA Regional Chamber
•Kurt Reiber, Freestore Foodbank
•Robert Tate, Axiom Consulting
•Deni Tato, Conscious Dynamics LLC
•Icy Williams, PAK/TEEM Inc.
•Robin Wood, Robin Wood Flowers
•Tammy Wynn, Angel's Paws
About the Cincinnati Human Relations Commission
CHRC was established in November of 1943 and was called The Mayor's Friendly Relations Committee. The goal was to appoint a committee that represented various racial, industrial and religious groups to make sure all groups felt a part of their communities and supported one another in the city of Cincinnati. As time passed the name was changed to CHRC and the mission grew to target a much larger issue, discrimination. Thus, our mission is "to help our community to overcome prejudice and discrimination, build mutual respect and understanding, and to become more harmonious and cohesive."
For 70 years, CHRC has provided middle ground for people who feel they have no voice and are unable to stand up for themselves. We investigate complaints alleging acts of discrimination in areas of housing, employment, and public accommodations or services; and evaluate cases to determine if the law has been violated. We then refer those cases to the Ohio Civil Rights Commission, Housing Opportunities Made Equal, or other appropriate organizations. CHRC also investigate alleged acts of bias, hate crimes, and ethnic intimidation, and collaborate with other organizations to diffuse tensions in the community, including conducting mediation and intervention services.
We also provide Community Outreach Advocates for CIRV with hopes of engaging group/gang members & assist them with "turning their lives around." We organize and host forums and events which encourage open dialogue around issues of prejudice and discrimination to eliminate social distance. We give underrepresented groups a voice through our Youth Services Programming, Fatherhood Initiative & Hamilton County Developmental Disabilities Services Mentoring partnership. We also provide training and workshops in the aforementioned areas.
CHRC is a non-profit organization. For more information on CHRC please visit the website at http://www.chrc.us or call the office at 513-352-3237. For more information about the awards ceremony, please visit http://www.bizjournals.com/cincinnati/event/100611?ana=et_cinci_evu40. Come meet & congratulate this dynamic group of rising stars, their supporters, and past Forty Under 40 winners who have been recognized since this program began in 1995!