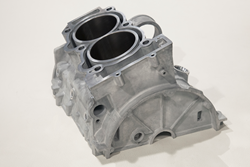 Millennium Technologies is looking forward to a lasting and expanding relationship with Polaris in the future.
Plymouth,WI (PRWEB) August 08, 2014
Millennium Technologies, the 17-year leader in powersports cylinder plating and repair, has added a massive project to its resume. Through a new partnership with Polaris Industries, all 2015 Polaris Scrambler XP 1000 and Sportsman Touring XP 1000 model ATVs will now come directly equipped with engine blocks that are manufactured and plated in-house by Millennium Technologies in Plymouth, Wisconsin. The partnership presents new opportunities for both companies, but most importantly, more power output (and therefore, more fun!) for ATV riders and enthusiasts.
Brad Hintz, head of Quality Control and the project's overseer at Millennium Technologies commented on the partnership, "This project has been nothing short of exciting, working with a leader in the industry to supply enthusiasts with top of the line ATVs, who could ask for more?"
The cylinder blocks are currently manufactured and plated in house daily by Millennium Technologies' machine shop technicians, who will soon be running production of the blocks through multiple work shifts.
"We've been plating Polaris cylinders from retail customers and dealers here at Millennium since we opened our doors, so the plating aspect of this project is nothing new to us." Hintz said, "The project itself which includes the manufacturing and machining of these blocks, however, is a new and exciting venture that we're very proud to be a part of. Millennium Technologies is looking forward to a lasting and expanding relationship with Polaris in the future."
Both ATV models come with a U.S. MSRP starting price of $13,299 with specific features alongside the plated engine blocks such as high performance close ratio on-demand all-wheel drive and two piece seats for the Sportsman Touring XP 1000, and dual exhaust, premium shocks, and a 1000 EFI engine featured for the Scrambler XP 1000, just to name a few. Full vehicle specs are available at the official Polaris website.
While the Polaris project has created a massive amount of production for Millennium Technologies, the company hasn't slowed down in any other area of their daily workload.
Hintz expressed that production of the Polaris blocks would not interfere with current manufacturing throughout the building, "The Polaris project gives our company a constant flow of production throughout the building, but we also have hundreds of retail and dealer customer cylinders and parts going through our plating and repair processes everyday, and we're not slowing down any regular in house production work. The machinists we have in-house for the Polaris project work almost exclusively on these cylinder blocks and cases so the rest of Millennium's customer jobs, which reach hundreds of new incoming cylinders each day, can still flow continuously throughout the building without any hold-ups in the process. It is a very good time to be a part of Millennium Technologies!"
To see the new 2015 Polaris ATVs equipped with Millennium Technologies manufactured cylinder blocks, visit http://www.polaris.com.
To see more of Millennium Technologies' services, projects, and products, visit http://www.mt-llc.com.