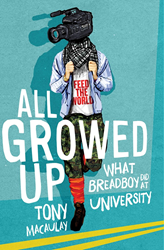 Bethlehem, Pa. (PRWEB) August 08, 2014
Tony Macaulay, Northern Ireland author and peace builder, will have his third memoir, All Growed Up, released on September 4, 2014. Blackstaff Press of Belfast, Northern Ireland, will publish the book.
All Growed Up is the third book in Macaulay's series of memoirs told from his perspective as a boy growing up in Northern Ireland during the Troubles. This was a period of turmoil and violence in Belfast, and shaped Macaulay's life and career. His first two books, Paperboy and Breadboy are critically acclaimed. Macaulay's readers have followed along on his journeys from the age of twelve, and now they will find out what happens when Tony leaves home to head to university in Coleraine.
"I am thrilled and honored to have my third book published," said Macaulay. "I hope my readers will enjoy the next step of my journey and all the discoveries I make during my time at university."
Blackstaff Press was also the publisher for Macaulay's second book, Breadboy. Paperboy was published by HarperCollins. Macaulay has traveled the UK and the United States sharing book readings and discussions at festivals and universities, and has received warm reception for his funny and heart-warming books.
For more information on All Growed Up, visit Tony's official website tonymacaulayauthor.com, and follow Tony on Twitter @tonymacaulay.
-###-
About Tony Macaulay:
Tony Macaulay grew up in the 1970s at the top of the Shankill Road – an experience that has shaped his life and inspired his writing. Following successful spells as a paperboy and a breadboy, he has gone on to spend more than thirty years working for peace and reconciliation both in Northern Ireland and abroad. Tony is also a writer and broadcaster, and has contributed regularly to Radio Ulster for more than ten years. His first two books Paperboy and Breadboy were critically acclaimed bestsellers. All Growed Up is his third book.