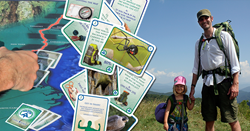 I can't think of a more fun way to get ready!
Marshall, NC (PRWEB) August 09, 2014
New Game Promotes Best Practices on the Appalachian Trail.
Learning best practices for hiking the Appalachian Trail—a 2,181-mile trek from Maine to Georgia—can begin in your own living room.
Mark Hanf of Marshall, N.C., and his team of developers at Outdoor Edutainment, LLC, created a board game called Thru-Hike: The Appalachian Trail Game http://www.theATgame.com.
A Kickstarter campaign to put the game into production launched July 17, 2014 and was fully funded within 48 hours. The campaign runs through August 22, 2014 and gives contributors the opportunity to take advantage of several reward levels ranging from $20 for a basic edition of the game to a $5,000 Hot Springs Hiking Adventure with AT world record holder Jennifer Pharr Davis.
All of the reward levels in the Kickstarter campaign are detailed here: https://www.kickstarter.com/projects/77420923/thru-hike-the-appalachian-trail-game.
"I'm an Eagle Scout," says Hanf, "so hiking and camping have always been a part of my life. I love long distance hiking and have done huge sections of the AT. I'd love to complete the entire trail with my daughter when she's older. She's six right now."
The idea for the game sparked in his mind after he cleaned a shelter along the AT that had been trashed by the people who came through before him. He channeled his frustration at their inconsiderate behavior into something more positive—a goal to create a game that people will enjoy playing while learning the best practices for hiking and backpacking the AT as well as preserving its beauty.
He took his idea to the Appalachian Trail Conservancy and it provided a small grant for the prototype game. After receiving amazing positive feedback from kids and adults who tested the game, Hanf and his team launched the Kickstarter campaign.
The game board is a folding trail map that features the entire AT. Each step on the board represents 100 miles. Players choose a trail name, a game piece and everyone draws seven cards. The cards either ask a trivia question (backpacking skills, low impact camping topics, etc.) or require a player to identify a plant or animal. Bonus cards allow players to hike faster while emergency cards create delays.
Players also have the opportunity to make suggestions for new cards that will appear in expansion packs. If their idea is selected, the card will be printed with their name and they'll also receive a free copy of the game.
"Our company also designs multi-media," says Hanf. "Ideally, we'd like to do an app that can be used in conjunction with the game. We're just a small company working in Marshall, N.C. with a population of less than 900 and now we have a game we can share with the world."
A portion of every sale goes to the Appalachian Trail Conservancy for trail maintenance.
For more on Thru Hike, visit the website at http://www.theATgame.com or contact Mark Hanf at 828-279-0283.
*Note to Editor: Full article available for reprint: http://www.citizen-times.com/story/life/2014/08/06/hike-appalachian-trail-living-room-new-game/13676101/ This article originally appeared in the August 7, 2014 edition of the Asheville Citizen-Times (Gannett).
Contact Bruce Steele, Features Editor, for permission to reprint for free with due credit: bsteele(at)ashevill(dot)gannett.com , 828-232-5848.