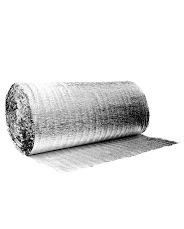 Attic radiant barriers made of aluminum foil are becoming a popular way for homeowners to save energy and money in Southern states" - Florida Solar Energy Center
Olympia, Washington (PRWEB) August 12, 2014
July 20th 2014 was the 45th Anniversary of the Apollo Mission that landed Neil Armstrong on the moon. The Apollo Missions were an inspiration for the radiant barrier technology growing in popularity in California and across the nation. NASA's Apollo Program used a radiant barrier technology that enabled astronauts to work in space while wearing short sleeved shirts within the Apollo Command Module. This is amazing considering that temperatures in space range from 25 ⁰F all the way down to 400 ⁰F below zero. Over the last few weeks, Smart Energy Today, Inc.™, a company that uses that same radiant barrier space technology in a reflective insulation system called Sol-Blanket Insulation™ for homes, recently established warehouses in San Jose and Huntington Beach California. The company will offer its products and services throughout the state of California.
What the experts are saying about Radiant Barriers
"One of the most cost-effective ways to make your home more comfortable year-round is to add insulation to your attic" - U.S. Department of Energy
The Florida Solar Energy Center, a research institute of the University of Central Florida has performed many tests on radiant barriers and is considered a leader in the reflective insulation industry. They say "Attic radiant barriers made of aluminum foil are becoming a popular way for homeowners to save energy and money in Southern states" and goes on to say that tests show it works!
According to a recent report from RnR Market Research "Demand for radiant barrier and reflective insulation is forecast to rise 8.7% per year through 2016" and goes on to say "Growth will be concentrated in the South and West regions, as structures in those regions are more often exposed to sunlight, and thus best benefit from the use of radiant barriers and reflective insulation."
Smart Energy Today, Inc. ™ believes in and sells all forms of insulation. Sol-Blanket Insulation™, the company's feature product, which includes two layers of radiant barriers, works in most climates, seasons and weather conditions and works best in conjunction with other forms of insulation. The product as part of a whole attic system is intended to keep homes cooler in the summer and warmer in the winter.
How Sol-Blanket Insulation™ Works
Smart Energy Today, Inc. ™ believes an r-value of 49 is ideal and Sol-Blanket Insulation ™ is just one way of getting there. Sol-Blanket Insulation™ is a double-sided radiant barrier, insulation and a vapor barrier all in one. It has five layers consisting of: aluminum foil, a polyethylene backing, a closed-cell polyethylene foam, then again a polyethylene backing and aluminum foil.
The foil acts as the radiant barrier, the closed-cell polyethylene foam acts as an insulator and the polyethylene backing simply attaches closed-cell polyethylene foam to the foil. The foil acts as an air barrier but is perforated which allows a minute amount of moisture to pass through which helps keep attic and crawlspace insulation dry by preventing the buildup of condensation. The closed-cell polyethylene foam is a class 1 vapor barrier.
Benefits of Sol-Blanket Insulation™
Sol-Blanket Insulation™ along with traditional insulation does what insulation is truly intended to do. Stop the transfer of heat in and out of the home. The product is long-lasting and is guaranteed for the life of a home or building. In a properly sealed home it means heating and air conditioning equipment can be smaller and will run less, causing less wear and tear on the equipment. Most importantly it reduces consumption, lowering energy bills and increasing comfort.
The company performs free in-home energy analyses for all prospective customers to determine what solution(s) best fit their needs. The company believes there is no "one size fits all" solution and as the company spokesperson said, "The consensus is that most homes need more insulation and we are excited to serve the needs of California homeowners".
What customers are saying about Sol-Blanket Insulation ™
Smart Energy Today, Inc.™ asks every customer to provide a review of their sale and installation experience with the company. One of their most recent customers Charlie Lemcke said the most helpful part of his in-home energy analysis was that it was "relaxed" and they "didn't waste his time". He also liked that they were "on time, hard-working and very courteous". The best part though, according to Mr. Lemcke was this: "We feel we are already seeing results. Our upstairs is staying much cooler in the heat we are having compared to last year."
About the company
Established in 2008, the company serves hundreds of customers every month. Using a group buying model the company secures the lowest possible price for both products and services which allow consumers to get the highest quality products at the lowest price. The company expressed that their "products are of Lexus quality at a Toyota price".
Smart Energy Today, Inc.™ is located in Olympia, Washington and serves all of Washington, Oregon, Idaho, Pennsylvania, Montana, California and soon to be in New York, Maryland and South Carolina. The company features Sol-Blanket Insulation™ and is a home improvement and maintenance company that offers a line of durable high quality energy efficient products designed to make homes and businesses more comfortable while saving money and reducing the carbon footprint at the same time.