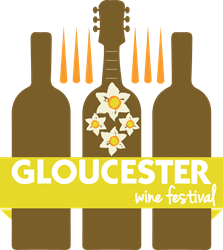 Gloucester, Va. (PRWEB) August 18, 2014
People may come out for the wine. But they'll definitely stay for the music.
The steering committee for the 5th Annual Gloucester Wine Festival is pleased to announce that its Chesapeake Bank Stage will come alive this fall with performances from the "Brandon Bower Band" and headlining act "JB & The Get Down Browns."
The festival will kick off at 11 a.m. on Oct. 18 at Brent and Becky's Bulbs at 7900 Daffodil Lane and run through 5 p.m. Nearly 15 premier wineries from across Virginia and 50 vendors, including fine food caterers, retailers and artists, will also be on site.
"Music has become an integral piece of the festival," said Dayton Wiese, festival committee chairman. "Each year, thanks to the generous sponsorship of Chesapeake Bank, we're able to bring prestigious bands to the event that bring a whole new energy to the festival grounds. With these two bands, we're definitely kicking it up a notch with a little funk and a lot of rock."
Based out of South Central Virginia, headliners "JB and the Get Down Browns" is a five-piece band known widely along the East Coast. Group members – Jeff Bailey, Brian Parks, David Snead, Mike Brown and Bill Brown – played in individual regional bands for more than 25 years before forming "JB & the Get Down Browns" in 2009.
The group indulges the eclectic tastes of all audiences by performing the best of R&B, Blues, Classic Rock and a "touch of Beach music."
"They are known for having lots of fun on stage, which is contagious to the crowd," according to reviews. "All of the members sing lead vocals which enables the band to provide a wide range of entertainment."
Opening for the "JB & The Get Down Browns" Band will be the "Brandon Bower Band." Before forming the group, members Brandon Bower, J.J. Bower and Nick 'Levi' Pulaski spent their careers touring with various well-known bands before coming together to play together.
"If Elvis Presley and James Brown had a child, it would be no other than Brandon Bower," one radio DJ said of the Georgia-based band's lead singer.
In fact, throughout his career, Bower has learned from and shared the stage with, among other musical greats, James Brown and the Soul Generals, Jennifer Nettles of Sugarland, Chris Barron of the Spin Doctors and John Michael Montgomery.
Versatility is one of Bower's most coveted strengths. According to the band, Bower can "comfortably play and sing Rock, Funk, Soul, Country, Jazz, Jam, R&B, Gospel and Metal." And often, it's a combination of all genres in one show.
"It's incredible to think we will have decades worth of musical talent all gathered on the Chesapeake Bank Stage this year at the festival," said Makalia Records, Executive Director for the Gloucester Chamber of Commerce, which hosts the annual event. "The combined musical talents of these two groups is sure to have the attendees of the Gloucester Wine Festival enjoying the music and dancing as much as they enjoy the food and wine."
For more information about the Gloucester Wine Festival, or to purchase tickets, visit http://www.gloucesterwinefestival.com. Tickets are $20 in advance or $25 at the door. The event sold out in 2013.