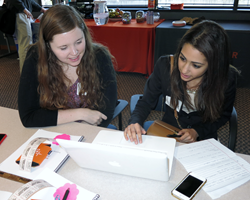 The Essentials of Online Community Management course perfectly aligns with Higher Logic's leading community solution.
Washington, DC (PRWEB) August 08, 2014
Higher Logic, the leading industry provider of cloud-based community platforms, announced it has partnered with Online Community Results and SocialFish to provide a new training course to its customers.
"We're confident this new partnership is another offering that will further the success of our clients' communities," said Mark Lowry, CRO of Higher Logic. "We strongly believe that a successful online community goes above and beyond just the strength of its platform, to include both continuing learning opportunities and active member support. Our exclusive partnership with Online Community Results and SocialFish brings a new level of training specifically designed for our customers."
The Essentials of Online Community Management course will be integrated into the Connected Community implementation process. It addresses primary elements of managing an online community and overseeing all community initiatives, whether you are a new community manager or senior executive. The multi-lesson course, created specifically for Higher Logic by Online Community Results and SocialFish, also includes valuable sample documents, templates and plans that are adaptable to any organization's process.
"We are very excited to partner with Higher Logic in enhancing an already comprehensive and supportive client onboarding process," said Ben Martin, CAE, Chief Engagement Officer for Online Community Results. "The Essentials of Online Community Management course perfectly aligns with Higher Logic's leading community solution."
"Our course has a curriculum that is straight-forward and manageable to take in a day or a week, for busy Higher Logic clients," said Maddie Grant, CAE, Editorial Director of SocialFish.
Every Higher Logic customer has the opportunity to take the new course for free as part of the standard product offering. They will also have continued access to all of the company's education and training opportunities, including Higher Logic Academy, the Learning Series, SNAP! Training and HUG's Super Forum annual meeting.
About Online Community Results
Online Community Results specializes in private social communities for associations, providing outsourced day-to-day community management, coaching for community managers, consulting, and community strategy services. We believe in growing communities organically; there's nothing artificial in our secret sauce. With extensive experience and expertise in online communities, association management, and social psychology, we work hand-in-hand with you to apply a tried-and-true organic growth process that virtually guarantees success, regardless of your software platform. For more information, please visit http://www.onlinecommunityresults.com.
About Social Fish
SocialFish is the largest, most well known and highly respected industry social media blog for associations and nonprofits. Editorial Director and co-founder Maddie Grant manages a team of 30+ regular guest bloggers writing about social strategy, social media and community management and implementation, social theory, social business and other topics that push the association industry forward. SocialFish also provides social media strategy consulting through ICF Interactive. For more information, please visit http://www.socialfish.org.
About Higher Logic
Higher Logic's Connected Community is the industry-leading, cloud-based community platform, with over 20 million engaged members in more than 100,000 communities. Organizations worldwide use Connected Community to bring like-minded people together in secure communities designed to ignite knowledge sharing, drive content creation, solve problems and improve performance. For more information, visit http://www.higherlogic.com.