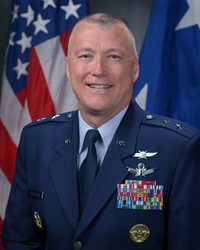 We are delighted to have Gen. McLaughlin and Capt. Brown visit with us in Las Vegas. They represent the very best of CAP, and are two terrific examples of the caliber of our membership.
Maxwell Air Force Base, AL (PRWEB) August 07, 2014
More than 700 Civil Air Patrol members are headed to the Tropicana Las Vegas next week for the U.S. Air Force auxiliary's 2014 National Conference. In The Entertainment Capital of the World, CAP members will focus on two high-profile volunteer celebrities of their own – U.S. Air Force Lt. Gen. James K. "Kevin" McLaughlin and best-selling novelist Dale Brown.
"We are delighted to have Gen. McLaughlin and Capt. Brown visit with us in Las Vegas," said CAP National Commander Maj. Gen. Chuck Carr. "They represent the very best of CAP, and are two terrific examples of the caliber of our membership."
McLaughlin is deputy commander of U.S. Cyber Command at Fort Meade, MD. Beyond his expertise in the subject of cyberspace and his Air Force career, McLaughlin and his wife, Victoria, are also members of CAP. Theirs is an active and dedicated CAP family, with Victoria McLaughlin currently serving as their squadron's character development instructor and Drug Demand Reduction officer.
The McLaughlins have been instrumental in supporting the creation of the first Cyberspace Familiarization Course, which took place this summer at Joint Base San Antonio-Lackland. The couple also has three sons who have been very active in the CAP cadet program. Their oldest, James, just completed his studies at Norwich University in Vermont and is serving in the U.S. Army. Their middle son, William, just completed his first year at the Citadel. Their youngest son, Bryson, participated in one of CAP's national flight academies, as well as Cadet Officer School. All three have been squadron cadet commanders and have participated in numerous National Cadet Special Activities.
McLaughlin will keynote the conference banquet, scheduled for 7 p.m. Aug. 16.
Brown, author of 25 New York Times best-selling military action adventure novels, some of which feature CAP plots, will speak three times during the conference – giving seminars on geopolitics, writing and storytelling at 3:30 p.m. and 7:30 p.m. Aug. 15 and also at 9 a.m. Aug. 16 as part of Cadet Day.
Beginning with the classic military techno-thriller "Flight of the Old Dog," Brown has sold more than 15 million copies of his novels, audiobooks, e-books and computer games in over 70 countries and in 12 languages. His latest novel is "Starfire," describing a future arms race in space between America and the Russian Federation. He is also the co-author of the "Dreamland" series, which is the longest-running military techno-thriller series in the world.
A former captain in the U.S. Air Force, Brown is now a CAP mission pilot with the Douglas County Composite Squadron in Minden, Nevada.
Brown first visited the Douglas County squadron in 2010, while researching the organization for his novel "A Time For Patriots," about a high-tech CAP unit tracking down domestic terrorists. While visiting, members of the Douglas County squadron convinced him that the best way to learn about CAP is to join CAP, and he did. Brown currently serves as commander of the squadron.
He also is a volunteer command pilot for Angel Flight West, an organization in which pilots donate their time, skills and aircraft to fly needy medical patients free of charge for care.
During the conference's general assembly, which starts at 8 a.m. on Aug. 15, Carr will end his three-year term as CAP's chief executive officer, turning over command to Brig. Gen. Joe Vazquez of Henrico, Virginia.
Other CAP members will be honored for their service during an Awards Recognition ceremony that begins at 8:30 a.m. Aug. 16. Honorees include Cadet of the Year Cadet Col. Robert H. Ward of Florida and Senior Member of the Year, the late Col. Richard F. Himebrook of New Mexico, who will be honored posthumously. Several CAP units will also be recognized, including the National Capital Wing's Mount Vernon Composite Squadron, which was selected as the 2014 Squadron of Distinction.
Members will attend nine preconference workshops Aug 11-14 customized to fulfill their unique professional development needs. Many of the workshops focus on new CAP technology, such as operation of the auxiliary's new Geospatial Information Interoperability Exploitation Portable go-kits, which feature self-contained communications equipment and other hardware that allows for real time or near-real time full-motion video, digital imagery and in-flight chat capability. A CAP Aircrew Survival Instructor Training Course and a Cessna G1000 Ground School are scheduled as well.
In addition, more than 50 learning labs are planned for Aug. 15-16. The seminars target topics of interest to members, such as disaster relief, finance, homeland security, communications, safety, cadet programs, aerospace education and public affairs. Three of the learning labs will be lead by Brown, who will discuss the specifics of storytelling as well as other subjects, such as current world geopolitical events.
Aug. 16 will be Cadet Day, offering 12- to 20-year-old members an opportunity to hear from Brown as well as McLaughlin and two of the organization's aviation legends – Col. Mary Feik, whose name is affixed to one of the CAP cadet program promotion awards, and Lt. Col. Al Hulstrunk, a World War II glider pilot involved in CAP's aerospace education program.
Civil Air Patrol, the official auxiliary of the U.S. Air Force, is a nonprofit organization with 60,000 members nationwide, operating a fleet of 550 aircraft. CAP, in its Air Force auxiliary role, performs about 85 percent of continental U.S. inland search and rescue missions as tasked by the Air Force Rescue Coordination Center and is credited by the AFRCC with saving an average of 70 lives annually. Its unpaid professionals also perform homeland security, disaster relief and drug interdiction missions at the request of federal, state and local agencies. The members play a leading role in aerospace education and serve as mentors to more than 24,000 young people currently participating in the CAP cadet programs. Performing missions for America for over 70 years, CAP will receive the Congressional Gold Medal in the coming months in honor of the heroic efforts of its World War II veterans. CAP also participates in Wreaths Across America, an initiative to remember, honor and teach about the sacrifices of U.S. military veterans. Visit http://www.gocivilairpatrol.com, http://www.capvolunteernow.com and http://www.capgoldmedal.com for more information.
CAP contact info:
Julie DeBardelaben – jdebardelaben(at)capnhq(dot)gov – 334-953-7748, ext. 250; 334-549-2224 (mobile)
Steve Cox – scox(at)capnhq(dot)gov – 334-953-7748, ext. 251; 334-296-5881 (mobile)