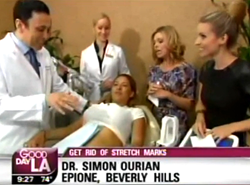 Los Angeles, CA (PRWEB) August 08, 2014
The July 28, 2014 issue of Life & Style Magazine features the comments of Dr. Simon Ourian, Medical Director of Epione Beverly Hills. Dr. Ourian was asked to discuss the before and after photos of Tori Spelling for the magazine's Knifestyles of the Rich & Famous section. Knifestyles of the Rich & Famous is a recurring feature of Life & Style magazine to which Dr. Ourian has been a regular contributor. In this instance, Dr. Ourian compared a 2007 photo of Ms. Spelling with a recent image to determine what, if any, aesthetic treatments Tori has undergone from the date of the first photo till today. In the article, Dr. Ourian stated that Tori may have undergone procedures to fill hollow cheeks and lips, smooth out her neck, and address wrinkles on her face and forehead. (see: goo.gl/GWekn9)
Dr. Simon Ourian performed a laser stretch mark removal treatment on Kim Kardashian on the Feb 23, 2014 episode of Keeping up with the Kardashians.
Tori Spelling played "Donna Martin" on the TV show Beverly Hills 90210 that ran from 1990 to 2000. Since then she's been participated in several reality TV shows including Tori & Dean: Inn Love, True Tori, and Tori & Dean: Cabin Fever. Tori's relationship with her husband Dean has been regularly featured in the tabloids.
"I reviewed the 'before and after' photos," says Dr. Ourian, "and it appears that Ms. Spelling has had some work done to her face and neck aside from the nose job she admitted to long ago. It looks as though her cheeks have been plumped up to replace lost volume with a dermal filler such as Juvéderm-Voluma."
I think that she's had laser resurfacing, radio frequency, or ultrasound treatments to smooth the wrinkles and tighten the skin on her forehead, face, and neck," says Dr. Ourian. "Finally, I believe her lips have been plumped with Juvéderm or Perlane injections. All of these are treatments we offer at our Beverly Hills clinic."
Dr. Ourian has been a pioneer in laser technology and non-invasive aesthetic procedures including Restylane, Juvéderm, Radiesse, Sculptra, and CoolSculpting. These treatments are used for the correction or reversal of a variety of conditions such as acne, acne scars, skin discoloration, wrinkles, unwanted fat, stretch marks, varicose veins, cellulite, and others. More information about plastic surgery can be found on Epione's website.