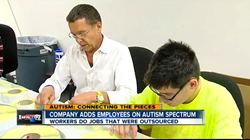 They're great, they're very hard working, they're very punctual, they're very skilled… they do a great job.
Boca Raton, Florida (PRWEB) August 08, 2014
NBC's nightly news program in West Palm Beach, FL "Impact 5" recently featured ALL-TAG Security for its honorable initiative to end outsourcing, and in exchange, support fully-capable Americans that have been diagnosed with autism. The company has replaced jobs it previously outsourced with individuals on the autism spectrum within the U.S., who have a much more difficult time getting hired as a consequence of the stigmas people have about the disorder.
The feature describes how ALL-TAG's decision not only brought jobs back to the American workforce and took a significant step forward for autism awareness in the U.S., but in fact, the company has actually saved money by making the switch.
During the reporter's interview of All-Tag's Vice President, Andy Gilbert, he states, "It's a win-win. They get to work and make money, and we're actually saving money doing the same thing we were doing in Hong Kong."
All-Tag manufactures anti-theft security tags for companies in the retail industry. At its Boca Raton headquarters, the recently hired workers with autism are assigned the task of removing security labels that don't meet the company's specifications from the rolls and replacing them with ones that do.
The news report states that the change was initiated in conjunction with Palm Beach County School District's Autism After 21 program, which provides a supervisor to monitor and assist 18-to-22-year-olds with autism as they learn job skills and earn a paycheck with affiliated companies. ALL-TAG started out with two part-time employees from the program, but after witnessing how well they performed, Gilbert decided to bring on a few additional workers.
The feature, which originally aired August 6th on the 6 o'clock news during NBC's Impact 5 program in West Palm Beach, FL, describes the pleasantly surprising outcome for the company. ALL-TAG was unsure what to expect when the executives first made the decision, but were soon rewarded for taking the financial risk associated with running a company that exemplifies a true sense of corporate responsibility.
Regarding the autistic employees hired at ALL-TAG, Gilbert comments, "They're great, they're very hard working, they're very punctual, they're very skilled… they do a great job."
Currently, there are six paid positions filled by those on the spectrum. The Hon Kong facility is now simply an inventory warehouse used to ship orders to the company's customers in Asia. At the conclusion of the report, Gilbert states that as long as the company is producing the product within U.S. borders, it will be welcoming additional workers with autism to join its team.
To learn more about All-Tag Security Americas or its anti-theft devices, please visit: http://all-tag.com/. Watch the news report featuring All-Tag on WPTV's website or on YouTube at http://youtu.be/peqMvPw-KpA.
About All-Tag Security Americas, Inc.:
All-Tag Security Americas was founded in 1992 and is the second largest global manufacturer of Radio Frequency (RF) Labels. With production facilities and inventory warehouse locations throughout the world, including the United States, United Kingdom, and Hong Kong, the company provides innovative and cost-effective solutions to help retailers protect their merchandise from theft. All-Tag's EAS solutions are compatible with both Tyco/Sensormatic Acousto-Magnetic (AM) and Checkpoint Radio-Frequency (RF) products, and can be easily integrated into any retailer's existing loss prevention program.