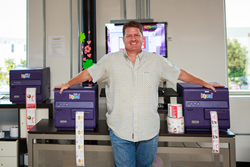 West Warwick, RI (PRWEB) August 13, 2014
QuickLabel Systems, an Astro-Med, Inc. (NASDAQ: ALOT) business unit, has released a video interview with Amoretti to document how the maker of gourmet ingredients and flavorings for pastries and other food items has increased its production speed, reduced its costs, and enhanced the look of its label by using three Kiaro! label printers to print their own labels.
The new video can be viewed on the QuickLabel website, on the QuickLabel blog, and on QuickLabel's YouTube channel at Youtube.com/QuickLabel.
Amoretti is a privately owned company that makes ingredients and flavorings with product lines that include syrups, extracts, compounds, flours, olive oils and martini mixes. Recently, Amoretti CIO Roland Cooper upgraded to the Kiaro! inkjet label printer in order to increase productivity, reduce cost, and dramatically improve label quality on all of their products.
"I first looked at purchasing the Kiaro! because we developed so many new products every day, said Cooper, "and it just doesn't make sense for me to develop a product, create a label and have it printed [elsewhere]."
Because Amoretti has a diverse line of products with multiple SKUs, they often require short-runs of labels. In addition, Amoretti creates new, custom gourmet flavors to order, satisfying specific customer requests. Even its regular, long-term customers order new ingredients as they craft new recipes and products. Because customer demand can change so frequently, printing labels on-demand and in-house dramatically reduced Amoretti's labeling costs, and reduced the time it took to ship their products.
"The Kiaro! gives us the ability to create a new product or pack size, print out and affix that label, and then ship out that product on the same day," said Nick Squires, Social Media and IT Coordinator at Amoretti.
More Label Printers for More Flexibility
"We purchased our first Kiaro!, gave it a try, and we really liked the product," said Nick Squires. "We liked how easy it is to print multiple labels, and since we have so many different sizes, and products, we thought that a second and a third Kiaro! would really benefit us."
Victoria Casey, a graphic designer at Amoretti, said that the speed at which the Kiaro!s print labels directly contributes to their production efficiency.
"The Kiaro! printer is so fast," said Casey, "the labels come out so fast, we're able to get them to the warehouse within minutes of their request."
Nick Squires echoed Casey's remarks, saying, "the Kiaro! gives us the ability to create a new product or pack size, print out and affix that label, and then ship out that product on the same day."
"A Way To Make Their Products Look Better"
Applying labels to all of their different products was important to Amoretti, but print quality was as important as print speed and was one of the key factors that led Cooper to purchasing additional Kiaro! label printers.
"A business owner should really look at the Kiaro! as a way to make their products look better, - they look very professional," says Cooper.
With the addition of high quality labels, Amoretti saw an influx of new customers. "The Kiaro! has absolutely helped us earn more customers because they can see our products better now that they're in color," said Nick Squires.
Squires continued, "Having the Kiaro! printer has allowed us to expand the quality of our nice looking labels onto more products. They're more attention-grabbing, they look better. We used to have a lot of products that just had simple black and white labels," but with having three Kiaro! label printers in-house, it "allows us to print very nice full-color labels for all of our products."
"The Kiaro! has allowed us to sort of put a visual statement on our products," said Squires, "Our products are the high end pastry ingredients in the pastry ingredient world. Our Kiaro! printers allow us to print full color, very professional-looking labels, allow us to put our products on the top of the shelf, and have them look like they belong there. "
And matching colors isn't a problem for Amoretti's graphic designers. Victoria Casey said, "Printing from the Kiaro!, the colors are true to what our designers are seeing on the monitor."
About Amoretti
Founded in 1989 by CEO, Jack Barsoumian, Amoretti® is based in Oxnard, California (USA). Amoretti® provides nearly 2,000 natural Pastry, Savory, and Beverage Ingredients, and more, for those who create exceptional menu items. Customers around the world include patisseries, chocolatiers, ice creameries, five-star hotels and restaurants, Fortune 500 industrial bakeries, gourmet coffee chains, and presidential and royal palaces. More information on Amoretti products can be found at http://www.amoretti.com.
About QuickLabel Systems and Astro-Med, Inc.
QuickLabel Systems is a leading manufacturer of digital color label printers used by manufacturers and processors who want to print their own labels in-house, as well as barcode label printers, thermal transfer ribbon, labels, and custom label printing services. QuickLabel Systems is a brand of Astro-Med, Inc., a manufacturer of high tech specialty printing systems and data acquisition systems for test and measurement. Astro-Med, Inc. (NASDAQ:ALOT) is a member of the Russell Microcap® Index. Additional information is available by visiting http://www.QuickLabel.com. Keep up with QuickLabel Systems on Twitter at http://www.Twitter.com/QuickLabel and on Facebook at http://www.Facebook.com/QuickLabel.