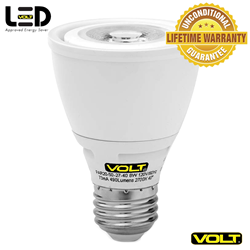 Deep discounts are possible because of a streamlined and efficient direct-to-consumer approach.
Tampa, FL (PRWEB) August 11, 2014
VOLT® Lighting, a direct-to-consumer manufacturer and distributor of premium-quality lighting products, announced today the introduction of LED PAR Lamps (Bulbs) to their growing line of LED light sources. This addition is a continuation of VOLT® Lighting's strategy to provide homeowners and contractors with affordable high-performance LED versions of all commonly used bulbs.
PAR lamps, well known for their use in outdoor security and accent lighting, are commonly used in ceilings, under awnings and mounted high above garages – all areas difficult to access when changing bulbs. Switching to VOLT®'s lifetime LED PAR lamps means forever eliminating the risk and inconvenience of changing these bulbs – while saving up to 85% in energy costs.
Alan Brynjolfsson, VOLT® Lighting president, remarked on the new line, "Our LED PAR Bulbs have some unique comparative advantages: The light is warm, pleasing and matches the look of existing incandescent bulbs. Our PAR LED bulbs are rated for wet locations so they can be mounted indoors or outdoors. They are dimmable and have the longest warranty in the industry — lifetime."
VOLT® Lighting introduces five models of these popular bulbs that vary in size and wattage:

PAR 20 (8 watts – replaces 50-watt bulbs)
PAR 30 (14 watts – replaces 75-watt bulbs)
PAR 30S (14.5 watts – replaces 75-watt bulbs)
PAR 38 (16 watts – replaces 90-watt bulbs)
PAR 38 (19 watts – replaces 120-watt bulbs)
While many of these bulbs are available from retail outlets, buying them from VOLT® (http://www.voltlighting.com) is a unique experience. Upon visiting the e-commerce site, the first thing the customer notices is that all prices are marked down to as much as 60% off list. These deep discounts are possible because of a streamlined and efficient direct-to-consumer approach that VOLT® uses to bring its products to market.
Ty Russum, Commerce Director, explains the company's online advantage, "When consumers search for lighting products on the Internet, they can end up in one of many lighting (so-called) 'super stores' or they can end up at VOLT® Lighting's website; every 'super store' site has higher prices and products that may be good or poor quality – it's nearly impossible for the consumer to make an informed decision. On the other hand, at the VOLT® site, customers find a streamlined selection of high-quality products (with easy-to-understand descriptions and videos) at incredibly low prices. It makes it easy and fast for consumers to buy the lights they need."
VOLT® Lighting is also known for fast shipping and excellent customer service. Recently awarded with Google's Trusted Store certificate, the company has fully stocked warehouses nation-wide with one- or two-day delivery to most locations.
About VOLT Lighting
Based in Tampa, Florida, VOLT® Lighting manufactures and distributes high-performance indoor and outdoor lighting products. VOLT®'s line of durable outdoor LED fixtures and indoor LED light bulbs carry an unconditional lifetime warranty. For more information, go to http://www.voltlighting.com or contact the company at customersupport(at)voltlighting(dot)com or 813-978-3700.