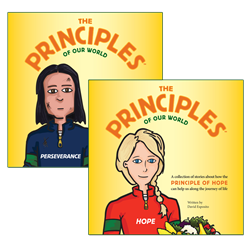 The Principles of Our World Series reinforces the importance of character and principle-based decision making as a powerful means to succeed in today's world.
Portage, MI (PRWEB) September 04, 2014
Harvest Time Partners, Inc. continues to expand the titles under its The Principles of Our World Series, a unique line of children's books designed to help families and educators teach children about the importance of principles like courage, teamwork, and sacrifice. Two new titles are being published today: The Principle of Hope and The Principle of Perseverance. Both titles provide resources to help parents and teachers support children as they grow in a world that continues to become more complex, intense, and uncertain. Through lessons in principle-based decision making, the books aim to help children accomplish their hopes and dreams in a challenging and changing world.
Harvest Time Partners will launch additional new titles throughout the remainder of the 2014. The new books will continue to offer parents and educators the opportunity to read to young children (ages 4+) and to present young, independent readers (ages 7+) with a great addition to their book collection.
Sections of The Principles of Our World Series can be accessed from the company's website at http://www.harvesttimepartners.com.
The books are currently available through a growing number of retail stores and online at Amazon.com. Each book in the series sells for $9.99.
David Esposito, author and managing partner of Harvest Time Partners, was inspired by his experiences as a combat veteran, business executive, husband, and father of four to create resources that remind families about the importance of principles like courage and honesty.
"Based on the strong market acceptance of the first books in The Principles of Our World Series, we are excited to launch The Principle of Hope and The Principle of Perseverance today," said Esposito. "As our world continues to grow more challenging, there is a need for resources that support and encourage families to learn how to more effectively deal with today's realities. The Principles of Our World Series reinforces the importance of character and principle-based decision making as a powerful means to succeed in today's world."
Harvest Time Partners, Inc., a rapidly growing personal- and professional-development company, was created almost 20 years ago to provide support to individuals, families, and organizations on a variety of topics and subjects encompassing personal and executive development, team building, leadership training, and building a strong marriage and family. Harvest Time Partners provides character-building seminars, workshops, and custom programs designed to increase personal effectiveness, enhance character development, and strengthen the bonds of marriage and family. For more information, visit http://www.harvesttimepartners.com