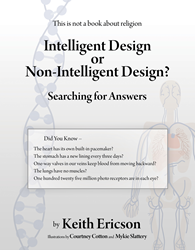 You don't have to be a religious zealot to counter the theory of evolution
Nashville, TN (PRWEB) August 08, 2014
The human body is one of the most complicated, spectacular and researched subjects in modern science – and yet, how it came to be remains a mystery to this day. How did we get to this point? Were we always this way? And what forces – physical or otherwise – got us here?
These are the questions carefully considered by author Keith Ericson in his new book, "Intelligent Design or Non-Intelligent Design?" Ericson explores this theory not to manipulate readers' feelings on religion, but instead to broaden their minds to new possibilities.
Ericson questions the over-reliance on Darwinian evolution and challenges readers by taking a non-religious, fact-based and comprehensive look at intelligent design as the most rational answer to the question of how the human body came to be. The book, designed for learning both philosophically and scientifically, will make readers think about intelligent design in ways never considered before.
"You don't have to be a religious zealot to counter the theory of evolution," said Ericson. "Evolution is the widely accepted popular theory that explains the human mind and body as it is today. Unfortunately, there isn't much rational, academic discussion relating to alternative theories, which is an important part of the learning process. This book fills that gap."
"Intelligent Design or Non-Intelligent Design?" is beneficial for educators, parents and students searching for various perspectives on intelligent design and evolutionary theories.
For more information, visit http://www.liferichpublishing.com/Bookstore/.
"Intelligent Design or Non-Intelligent Design? Searching for Answers"
By Keith Ericson
ISBN: 978-1-4897-0066-7
Softcover, retail price: $27.99
E-book price: $3.99
About the author
Keith Ericson grew up in West Virginia and Pennsylvania. He holds a liberal arts degree and a master's degree in administration. He was a naval aviator from 1955 to 1959 and a teacher and administrator before becoming the manager of public relations and communications for the Tennessee Education Association, retiring in 1997. Ericson is married to the former Frankie Gregory, and they have two children and three grandchildren. He and his wife live in Nashville, Tennessee.
# # #