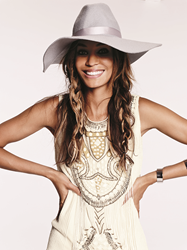 Nature's presence in Vancouver, and the local free-spirited culture is a big inspiration to us. We know the women here will love our brand!
(PRWEB) August 08, 2014
Specialty retailer, Free People, is coming to Vancouver, Canada with a new store opening in August and another in October 2014. The first boutique is set to open at Park Royal Shopping Centre in West Vancouver on August 29th, 2014, covering 2,600 square-feet. Shortly following, on October 10th, 2014, the second space will open downtown on Granville Street, filling 3,400 square-feet with the brand's eclectic apparel. The openings mark Free People's 98th and 99th boutiques across the United States and Canada, and will be the brand's very first stores in British Columbia. To celebrate Free People's Vancouver launch, the brand has brought on local partners to offer giveaways and live events at both openings.
Vantown Sweeps:
The Free People 'Vantown Sweeps' will run from August 25th-September 21st, and prizes will include four giveaway packages, each centered on a theme: The Makeover, The Night Out, The Escape, and The Taste of the Town. Prizes will include $100 Free People gift cards along with contributions from local partners: Bioéthique Spa (The Makeover), Amore Natural Products (The Makeover), The Juice Truck (The Makeover), Mellifera Bees (Taste of the Town), Rogue Kitchen & Wet Bar (The Taste of the Town), Food.ee (The Taste of the Town), Steamworks Brewery (The Night Out), Guilt & Co. (The Night Out), and Rockwater Secret Cove Resort (The Getaway). Fans can enter to win the gift package of their choice and find more details at http://www.FreePeople.com/FPVantownSweeps beginning on August 25th, 2014.
FP Park Royal Opening Event:
On August 29th, from 6-8pm, the first fifty guests to arrive will receive complimentary organic-themed gift bags. The reusable canvas totes will be filled with mini succulents and goods from Free People and Tarte Cosmetics. Light refreshments will be served and there will be a photobooth for guests to enjoy as well.
FP Granville Street Opening Event:
On October 10th, from 5-9pm, Free People will celebrate the Granville Street opening with a "Taste of the Town" event in partnership with local food group, Food.ee. Food.ee works with Vancouver's best in class restaurants to enhance the corporate lunch hour by delivering sustainable and local meals to the workplace. They will be serving up mouth-watering fare from Vancouver favorites: The Juice Truck, Cartems Donuts, and Finch's Market Café. The first fifty guests to arrive will receive a complimentary gift bag with goodies from Free People, Tarte Cosmetics, and Amore Natural Products.
"We are thrilled about our arrival in British Columbia," says Free People Director of Retail, Beth Wehagen. "Nature's presence in Vancouver, and the local free-spirited culture is a big inspiration to us. We know the women here will love our brand!"
Free People is known for free-spirited apparel inspired by world-travel and vintage styles. Drawing on these influences, the brand designs pieces fitting with current fashion trends. Both openings, will have the brand's latest collection of fall-ready merchandise, including a wide array of denim – from distressed, to hi-rise, to everyday skinnies – easy pullovers, socks, and a special collection of white woven tops. The Park Royal location will also offer a full assortment of Intimately Free People, the brand's coveted line of bras, undies, slips, seamless layering pieces, and loungewear.
The store design concept at Granville Street is inspired by Free People's globe travelling girl and the collections that she curates and displays, while the Park Royal space mirrors the brand's more rustic side with a workshop feel. Both spaces greet customers through custom steel storefronts with double entry doors and feature white-washed wall finishes throughout. At Park Royal, shoppers will find a stronger presence of rugged elements such as reclaimed wood and blackened steel, whereas Granville features two skylights flooding the space with natural light and hand-carved elements to play up Free People's feminine side.
Free People Park Royal will be located at Park Royal Shopping Centre, C780 Main Street, West Vancouver, BC V7T-0A5. Store hours will run Monday-Tuesday 10am-7pm, Wednesday-Friday 10am-9pm, Saturday 9:30am-6pm, and Sunday 11am-6pm.
The Granville Street boutique will be located at 2624 Granville Street, Vancouver, BC V6H 3H2. Store hours will run Monday-Saturday 10am-7pm, and Sunday 11am-6pm.
Fans should "like" both stores on Facebook to stay up-to-date on all of the latest arrivals, events, and other happenings:
Park Royal (facebook.com/FreePeopleParkRoyal)
Granville Street (facebook.com/pages/Free-People-Vancouver/798080240212033)
For more information, images, to request an interview, or to discuss a TV opportunity, please call Naomi Huober at 215-454-5808 or email nhuober(at)freepeople(dot)com.
# # #
About Free People
Free People is a specialty clothing brand featuring the latest trends and vintage collections for women who live free through fashion, art, music, and travel. The eclectic look consists of quality apparel, shoes, and accessories that invoke attributes of femininity, spirit, and creativity with its design. Free People is distributed globally via direct channels including the Free People Global site and Free People UK site, as well as specialty boutiques, top department stores, and the brand's free standing retail locations in the U.S. and Canada.
About Park Royal
Home to over 280 stores and services, Park Royal and The Village at Park Royal feature over 1.4 million square feet of high quality retail. As the second largest shopping centre in Metro Vancouver, Park Royal boasts some of the world's best fashion brands, more than 5,000 free parking stalls, and Canada's first lifestyle centre – The Village at Park Royal. Situated at the foot of the landmark Lions Gate Bridge and minutes from downtown Vancouver, Park Royal is at the forefront of fashion and retail in the Lower Mainland. Learn more at shopparkroyal.com.
About Food.ee
Bored of the normal corporate lunch? Food.ee works with Vancouver's best in class restaurants to deliver gourmet and sustainable food experiences to the workplace. The restaurants are hand-picked to ensure quality meals are made with fresh, local and seasonal ingredients. The corporate lunch hour is further enhanced by reducing the "foodprint" of corporate offices by working with sustainable suppliers, compostable packaging and zero-emission delivery loop.