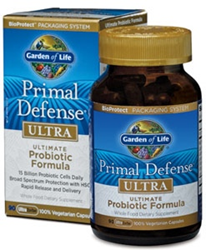 Probiotics help keep a balance of good bacteria in the gut, which in turn help balance the immune system of the gut, which helps balance the immune system of the body.
(PRWEB) August 11, 2014
When Jordan Rubin started Garden of Life, he was focused on digestive health. Probiotics or "friendly bacteria" can support the immune system. "Because the bulk of the immune system is in the gastrointestinal (GI) tract, if you ensure intestinal health and harmony it has the benefit of supporting overall immune function," says Dr. Brasco who is also co-director of The Colon and Digestive Disease Center of Huntsville, Alabama.
Here's how it works: In a healthy bowel, good microorganisms aid digestion and nutrient absorption while keeping potential pathogens (harmful microorganisms) under control. When the good bacteria become depleted an imbalance of microflora in the gut occurs. Probiotics support a normal gastrointestinal balance of good and potentially harmful bacteria to help maintain a balanced, healthy internal environment. "Probiotics help keep a balance of good bacteria in the gut, which in turn help balance the immune system of the gut, which helps balance the immune system of the body," says Dr. Brasco. "Even if people aren't having GI problems, probiotics can help to support and maintain the immune system."
Garden of Life's first probiotic formula, Primal Defense, is still among the best selling formulas in the industry. According to Gail Bowman, owner of Health Food Emporium, "Jordan Rubin created Primal Defense to fight Crohn's Disease, and many of my customers have had tremendous success with it. I take it personally, and I have for 11 years. We are thrilled to be able to support our customers by offering a great sale on both Primal Defense and Omegazyme this month."
Primal Defense Ultra is the ultimate high potency, broad-spectrum probiotic formula, providing a 15 billion live cell count per day of 13 species of beneficial cultures including Mr Rubin's soil-based probiotics called Homeostatic Soil Organisms. Primal Defense Ultra supports normal intestinal comfort and function, and promotes healthy intestinal elimination regularity and consistency and helps maintain a healthy, balanced immune system which is beneficial to overall health.
Primal Defense Ultra contains Bacillus subtilis to support healthy lactic acid bacteria (Bifidobacterium and/or Lactobacillus) count and healthy pH levels in the gut, and Saccharomyces boulardii which nourishes intestinal mucosa cells to support the normal barrier function of the intestinal epithelium, the front line for the body's defense system.
Omegazyme is Garden of Life's original digestive enzyme blend. Omegazyme Ultra supports gastrointestinal health and digestion through a highly potent, comprehensive formula that delivers higher activity per serving of a broader range of enzymes than other leading enzyme formulas. Omegazyme Ultra provides 21 different digestive enzymes, each with a specific function to help your body process proteins, carbohydrates, fats, and difficult to digest foods like broccoli, nuts, seeds, beans, and dairy, increasing nutrient availability to the body.
Health Food Emporium is an online health food store that has specialized in whole food supplements for over 10 years.