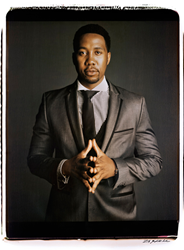 Representing the next generation of Mandelas, Ndaba's expertise is unmatched in his enlightening talks.
Newton, MA (PRWEB) August 08, 2014
Following the U.S. - Africa Summit, the nation is experiencing a renewed interest in how these two bustling economies can work together in mutual cooperation. In tandem with this recent summit, Ndaba Mandela is actively speaking on Africa's past history and future potential exclusively through American Program Bureau.
Being the grandson of Nelson Mandela, Ndaba engages audiences, explaining what is was like to first meet his iconic grandfather at age 11 when Nelson Mandela was finally released from prison – and then live with him in the Presidential Palace. He tells the inspiring story of his grandfather's journey from prisoner to President, first-hand. Ndaba shares his experiences of what it was like to grow up in the time of Apartheid, its eventual end and how he carries on his grandfather's legacy. He also describes on a more personal level his efforts to carry on the Mandela legacy.
Representing the next generation of Mandelas, Ndaba's expertise is unmatched in his enlightening talks. Ndaba Mandela speaks from an informed perspective and shows how Africa's vast natural resources and expansive potential for growth are rife with opportunities. Ndaba's inside access has made him the foremost authority on Africa's economic potential. With Africa being home to seven of the top 10 rising economies, he actively speaks to corporations about ways to leverage the continent's vast natural resources into opportunities, and highlights its hidden prospects in what is now a global hotbed of potential.
With his grandfather's legacy in mind, Ndaba also has founded the Africa Rising Foundation, continuing the message of the importance of education – reinforcing Nelson Mandela's belief that one individual can change the world. This landmark foundation offers insight into education's direct effect on employment and also works to de-stigmatize negative media stereotypes – ensuring a future filled with pride and prosperity. Ndaba also speaks out on his own family's struggle with AIDS, describing what is was like from his perspective to both lose family members, and live with the stigma of AIDS in Africa.
Organizations wishing to book Ndaba Mandela should contact the American Program Bureau at 1-617-614-1600 for information on available dates and program topics. For more information on American Program Bureau, please visit http://www.apbspeakers.com. For a profile on Ndaba Mandela, please visit http://www.apbspeakers.com/speaker/ndaba-mandela.
About American Program Bureau
Ndaba Mandela only entrusts his precious story and expertise to American Program Bureau (APB). With over 50 years of industry experience APB was founded to provide an open forum for individuals to voice their opinions and points of view. In addition to Ndaba Mandela, APB's roster includes other key thought leaders on the future of Africa, including Naomi Tutu, Ellen Johnson Sirleaf, Joyce Banda and Nicholas Kristof, among others.
# # #