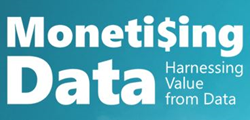 The Monetizing Data Forum is a time to connect and build relationships with the CIOs, data analysts and marketing professionals who are leveraging big data to create extraordinary business outcomes
New York, NY (PRWEB) August 28, 2014
The evolution of the Hadoop ecosystem for processing vast amounts of data, advances in NoSQL databases and the need for sophisticated analytics have welcomed a flood of interest and investment in big data projects and applications. There is a race among enterprises to leverage the data they collect related to customers, products and operations in an effort to improve productivity, profitability and realize new avenues for revenue growth.
At the Monetizing Data Forum in New York on September 23rd, featured keynoters Joe Caserta, President of Caserta Concepts, Jonathan Murray, EVP & CTO of Warner Music Group and Geoff Baird, President & GM Product & Technology of AGT International examine developments and issues ranging from effective collection of data for revenue gain and the increased need for quick and accurate analysis, to a look ahead to trends driving the markets.
"The forum is a time to connect and build relationships with the CIOs, data analysts and marketing professionals who are leveraging big data to create extraordinary business outcomes," said Joe Caserta. Decision makers want a chance to communicate their questions and concerns, learn from industry thought-leaders, hear the latest news and build effective business relationships."
In addition to Joe Caserta, session speakers feature executives from Credit Suisse, McGraw-Hill Financial, Web MD, A&E Networks, Discover, Wells Fargo, Hearst, Healthfirst, COTY, Merkle, and Citigroup among others. Panel sessions include:

Regulatory Issues and Emerging Areas of Monetizing Financial Services Data;
Big Data for Customer Loyalty - Using Customer Loyalty Data to Improve Targeting & Reward Programs;
Effective Hadoop - Examples of Extraordinary Outcomes;
Monetizing Audience Data;
Big Data Analytics - Practical Tools that Dramatically Improve Insight; and
Big Data in Adtech Analytics
"The support of our many sponsors, Actian, Cisco, Datastax, Dell, Gigaspaces, Hortonworks, O'Reilly Media, Terradata and Wandisco, is evidence of the importance of this forum," said Caserta. "The Monetizing Data Forum is a gathering of 200 senior professionals taking a 360-degree view of real-world situations, and offers an exceptional opportunity to share with and learn from the best in the field. "
The September 23rd forum runs from noon - 6: 30 pm, followed by a cocktail reception.
For information about the agenda, sponsorship, networking opportunities, and to register*, visit http://www.bwgstrategy.com/monetizingdata
*Register now and save $100 by using code earlybird. Valid through September 9th.
About Caserta Concepts:
Caserta Concepts is a New York-based technology innovation consulting services firm that specializes in big data analytics, data warehousing and business intelligence. With a worldwide network of professionals, Caserta Concepts collaborates with CIOs and their IT organizations to help them gain new business insights through a better understanding of their data. The company was founded by internationally recognized data warehouse authority and author, Joe Caserta, in 2001. For more information, please visit http://www.casertaconcepts.com Connect with Caserta Concepts on Twitter (@casertaconcepts) and LinkedIn at http://www.linkedin.com/company/caserta-concepts. You can also follow Joe Caserta on Twitter at @joe_caserta
Contact:
Bob Eilbacher
Caserta Concepts
(855) 755-2246 ext.345
bob(at)casertaconcepts(dot)com
Lois Russo
Caserta Concepts/Public Relations & Marketing
(855) 755-2246
lois(at)casertaconcepts(dot)com