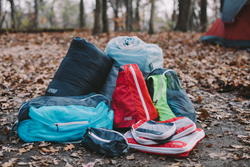 Elk Grove Village, IL (PRWEB) November 06, 2014
L.C. Industries, Inc.™ is pleased to announce their new Lewis N. Clark® ElectroLight™ Collection, which debuted at the Outdoor Retailer Summer Show in Salt Lake City.
"As a result of the success of our FeatherLight™ Packing Collection, we created the ElectroLight Collection with vibrant fresh color schemes, ultra-lightweight materials, exceptional stitching, and the ability to pack down into a special bonus ditty bag," said Ray Roos, Vice President of Sales.
ElectroLight takes lightweight packing to the extreme with ultralight, durable silnylon and punches of vibrant color to make packing effortless and fun. The colors complement each other as a collection, and allow one to identify the bag's size easily as well.
Featuring 10 new products, one of the signature qualities of the Backpack, Duffel, Sling Pack, Stuff Sack, and Ditty Bag is their ability to pack down compactly into themselves. They easily accommodate small gear for camping, backpacking, sports, and travel, and are perfect for carry-on, day trips, and the gym.
The Expandable Packing Cubes organize clothes and prevent them from wrinkling, and the Toiletry Kit is water-resistant and non-slip. The Waist Stash and Neck Stash are practical ways to keep valuables safe and close at hand.
The ElectroLight Collection will be available in the first quarter of 2015.
About L.C. Industries, Inc.
L.C. Industries, Inc. began with the manufacturing of luggage caddies in 1971. Since then, it has expanded to offer over 500 products in categories, such as security, comfort, convenience, and health. LCI Brands owns several internal brands, including Lewis N. Clark® and Belle Hop®. For more information, visit http://www.lcibrands.com.